Animations Dealing With Big Issues
By NCS
Some people might think that animations are just for kids, with cutesy easy storylines that don't go deep. Hmm, how wrong can you be?! So many animations actually deal with profound societal issues like race, gender, mental health, loneliness and conflict. And seeing an animated character deal with these issues, and seeing our own reality reflected in their make-believe world, can often help us to navigate our own life. 
So, without further ado, here's a rundown of a few of our favourites. 
Puss in Boots – The Last Wish: Panic Attacks
Our leading feline friend is on a mission to restore eight of his nine lives, and he does so with bucketloads of charm and charisma. But, very importantly, Puss is shown to be a character who experiences a full range of emotions including fear, panic, and anxiety.
In one scene, Puss slumps against a tree as his rapid heartbeat drowns out every other sound in the forest. His friend, the affable therapy dog Perrito, notices Puss is in distress and comes over to calmly comfort him, until the panic attack passes and Puss is able to relax and breathe again. Seeing this very human experience reflected on screen by a traditionally swashbuckling character led to a lot of conversations online, and we love to see it. 
Lilo And Stitch: Family
This movie is about a young Hawaiian girl named Lilo who lives with her sister Nani. Lilo adopts an animal-like fluffy blue alien named Stitch. And, although Stitch initially wreaks havoc, Lilo convinces Nani to let her keep him and she teaches him how to fit in. This film highlights the importance of chosen family — and shows that close bonds aren't defined by blood, but they're created by love, patience, and compassion 💗
Coraline: Control and coercion
This beautifully created stop-motion animation shows us the world of a young girl, Coraline, who travels to a magical universe where everything seems — at first glance — to be perfect. But there are very sinister goings-on. Her twisted 'Other Mother' is so desperate to keep Coraline there, that she fabricates everything in order to please her. Mind-games, mental manipulation, control, and coercion are big topics. But they're never too big for this animation. 
Zootopia (AKA Zootropolis): Racial profiling
The central message of this cute-creature-filled animation is about prejudice, discrimination, and racial profiling. The hero of the movie is Judy Hopps, a rabbit who's joined the Zootopia police force and is continually underestimated and overlooked because no one thinks an animal as small and sweet as a rabbit could ever be a good police officer. 
The city is 90 percent prey and 10 percent predators, and Judy (who, as a rabbit, is 'prey') realises she's been making a lot of assumptions about the 'predators' in her midst. In one particular monologue to her friend, a fox, Judy says that it was wrong of her to assume something about him simply because he's a predator. This animated tale is a beautiful reminder that people can change, and that we can fight prejudice to create a better world.
FROZEN: LGBTQ+ REPRESENTATION
Elsa has become a lesbian icon, and the hashtag #GiveElsaAGirlfriend has been trending. There are multiple reasons as to why. First off, there's Elsa's struggle in coming to terms with her powers — which can be seen as a parallel to LGBTQIA+ people coming to terms with their sexuality. Also, Elsa was living in fear, terrified that her secret would come out and she'd be rejected. Sound familiar, anyone? And there's Elsa's song Let It Go, which has been hailed as 'a coming out anthem' because the lyrics are all about being true to yourself no matter what others think. So, Disney, hurry up and give Elsa a girlfriend already!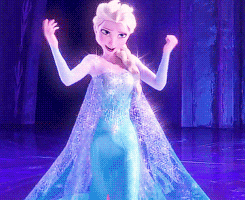 We'd love to hear what your favourite animation is, and why! So let us know by dropping us a DM on Insta.
Include this article in your Skills Builder Journal. It could help you develop...