Change-Makers: Break the Stigma
By NCS
Include this article in your Skills Builder Journal. It could help you develop... 


According to the latest findings from the Crime Survey for England and Wales, in 2018 an estimated two million people in the UK experienced some form of domestic abuse. So why is it still so hard to talk about these subjects? Worcestershire-based NCS grad team 'The Barnacle Boyz' went on a mission to break the stigma through communication and create positive change in their community.
It all started when The Barnacle Boyz realised that when it comes to the heavy issues, people (no matter their age) tend to feel uncomfortable. Especially when abuse is the issue at hand. Whether it's physical, emotional, or even financial abuse, people tend to shy away from discussing it openly. 
And that makes sense. For a lot of people, these topics are hard to understand and even harder to put into words. And for some it's just too close to home. But The Barnacle Boyz wanted to start a conversation. To let people in their community know they are safe, and not alone. 
This meant approaching the topic and their project, Break the Stigma, with the utmost respect. To make sure of this, they got in touch with Dawn Project. A local, free, confidential and non-judgemental service for women who are experiencing or have experienced domestic abuse. Through talking to Dawn Project, The Barnacle Boyz were given the right information to put a plan in place. They would raise awareness of abuse (for both women and men) and educate others in a memorable and considerate way.
First came a short film in which The Barnacle Boyz highlighted statistics on domestic violence and gave everyone watching a run down on different types of abuse. Very important stuff.  
Next, the Positivity Umbrella. They wanted a way to emphasise their belief. Something easy to remember that everyone can take with them every day: that no matter how much you are rained down on, there will always be positivity to protect you.
And finally, The Barnacle Boyz created their masterpiece. Literally! They painted a mural at the Droitwich Lido. They took a provocative issue, and turned it into something really meaningful and beautiful. And everyone in the community agreed, with lots of onlookers stopping to ask questions about the project and praise the boys for tackling the issue.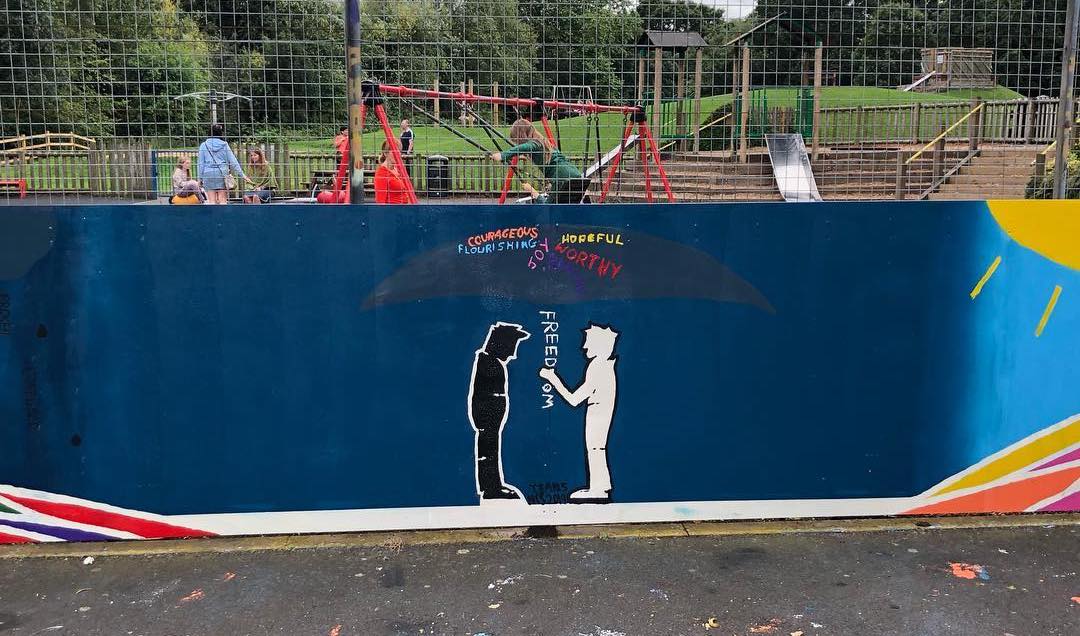 "We chose this spot for the mural because it's popular with families and young people. Our hope is that it creates a space for conversation and educates the younger generation that violence in any form is not okay."
And The Barnacle Boyz aren't stopping here. This project broke barriers in more ways than one. By coming together, they've shown that teens aren't 'too young to care' and don't just 'sit around playing video games' but are vocal, switched on, and serious about facing the issues that affect all of us (but you already knew that, duh).
So let's all try and be a bit more like these guys. Because as Kacey from The Barnacle Boyz says, "If you believe in something enough and have the right people around you, you can leave a mark and create something worthwhile."
WANT TO MAKE A DIFFERENCE WHERE YOU ARE?
Take a leaf out of The Barnacle Boyz book and start talking about mental health. Although it might be tough, a simple conversation can change a life for the better. Or why not find your local charities and see the benefits of volunteering.
And if you've already taken part in a social action project that you're proud of, we want to hear about it! Shout it from the rooftops here.