What Consent Does And Doesn't Look Like: Secrets From Heartstopper
By NCS
Written by Fumble, the online guide to sex, relationships, identity, and pleasure. All the advice given is intended for people above the age of consent (that's 16 in the UK!).
6 min read
---
What is consent? And how do we put it into practice? How do we ask for consent without it feeling awkward, embarrassing, or even ruining the mood? Consent can sometimes feel confusing, and it's understandable to feel frustrated at the fact sexual consent isn't as simple as saying "yes" or "no". Getting consent is the bare minimum of what we should be doing when it comes to sexual intimacy with someone, but how do we do this in real life? We've pulled together all our best advice and, we'll be discussing a few examples from the Netflix series Heartstopper too.
What is consent and why is it so important?
We might think consent is only about sex, but it's actually important in many different situations. Any kind of physical intimacy, whether that's kissing, touching, or having any type of sex, requires consent. A really good example of this is in the first series of Heartstopper when Ben kisses Charlie even though Charlie has explicitly told him he doesn't want to meet up anymore. Charlie obviously doesn't want to kiss him, saying "don't touch me" and telling Ben to stop, but Ben does it anyway. It isn't appropriate to call this a kiss at all: Charlie doesn't consent, Ben does it anyway, so this is sexual assault.
How do I ask for consent?
So, you might be thinking, do I need to ask someone every time I even want to kiss them? Isn't that really awkward and unsexy? Let's go back to Heartstopper to answer this question.
When Nick and Charlie kiss, it's very obviously consensual. How do we know this? The first time they kiss, Charlie explicitly asks Nick if he could kiss him. He also communicates through his body language, by touching Nick's hand. This gives Nick the opportunity to both verbally and physically say 'no', by either saying "no" out loud or by pulling his hand away. This scene is super romantic, and I don't think anyone could argue that Charlie asking to kiss Nick ruins the mood — if anything it's what makes the scene so beautiful!
Whether you're in a long-term relationship with the person, or it's a more casual hook-up, you should be trying your best to make the other person feel as comfortable as possible, and aiming to give them the best time you can (though, that doesn't mean doing things you don't want to do!). We can do this by:
They've consented before, so do I need to ask again?
You, and everyone else, can say 'no' to sex, touching or kissing at any point. We can't say it enough. Whether that's in a club, your bedroom, or if you're in the middle of having sex. And just because someone has consented to something before, or because you're in a relationship with them, doesn't automatically mean that they consent all the time. Even if someone has consented to something in the past, that doesn't mean they give their consent for every future time. It's essential to check in (getting consent) every single time you are physically intimate with someone.
Let's consider how this might look. In Heartstopper, once Nick and Charlie are officially dating, we don't always see explicit verbal consent every time they kiss, but that doesn't mean it isn't there. Instead, they use body language cues. They know each other pretty well by this point, so it becomes a lot easier to read each other's body language and know whether the other person feels uncomfortable.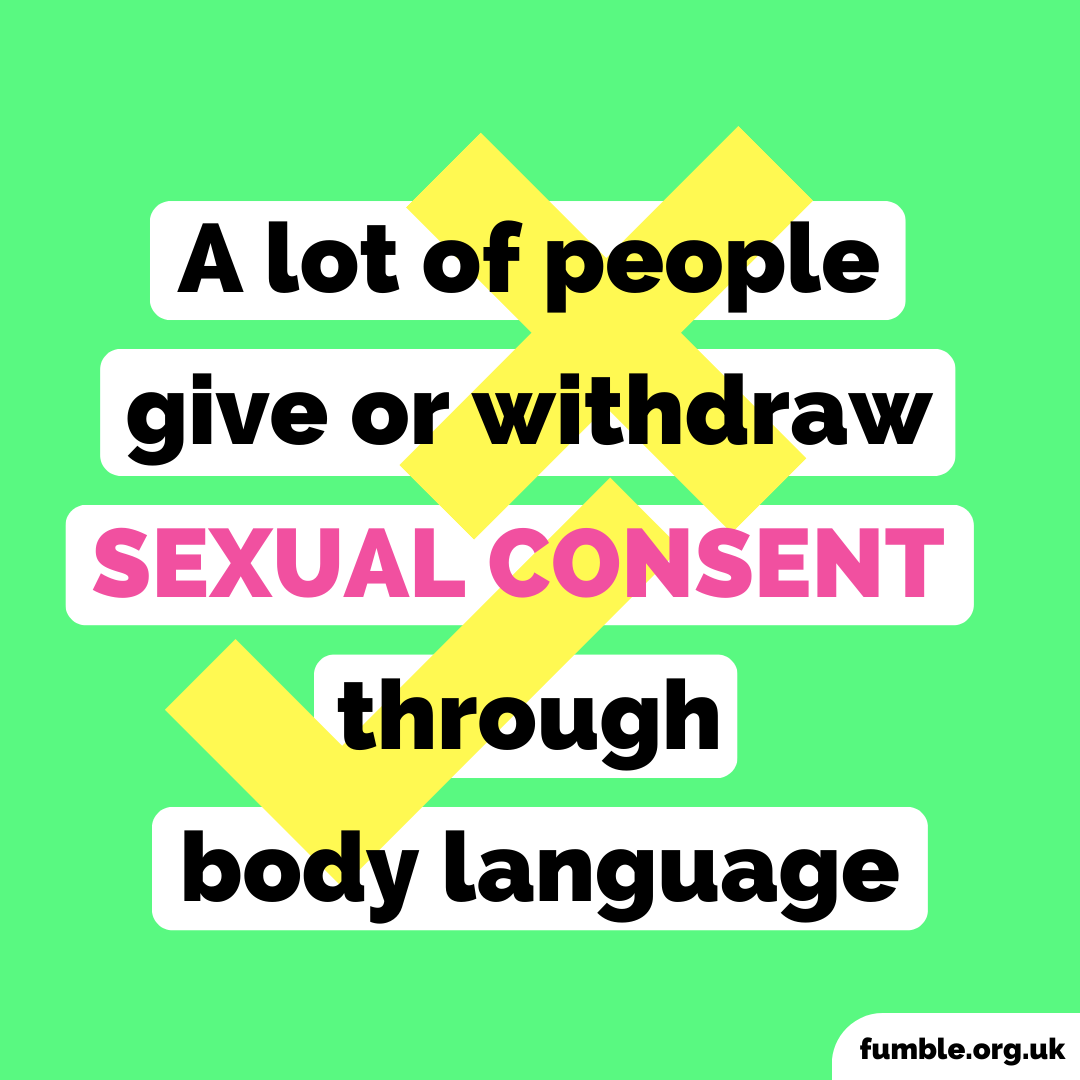 Showing consent through body language
Body language cues are very individual, but here are some common signs of consent:
✅ Smiling
✅ Eye contact and looking at you
✅ Nodding
✅ Being responsive, pulling you to them, touching you back
✅ Kissing you back
✅ Moving their body closer to you
Of course, you can still communicate consent verbally as well, even if you know someone really well. In Heartstopper, during the school trip to Paris, when Nick is kissing Charlie's neck, he stops to ask Charlie if what he's doing is okay. Charlie replies with a very enthusiastic 'YES!'. What's more attractive than knowing someone is really into what you're doing?
How do I know if someone doesn't consent?
Everyone has the right to change their mind about any kind of sexual intimacy, regardless of what's going on. But even if we know that, it doesn't mean it's easy to actually say it. Saying "no" can feel incredibly hard for a lot of us! Especially if it involves someone we have feelings for or care about.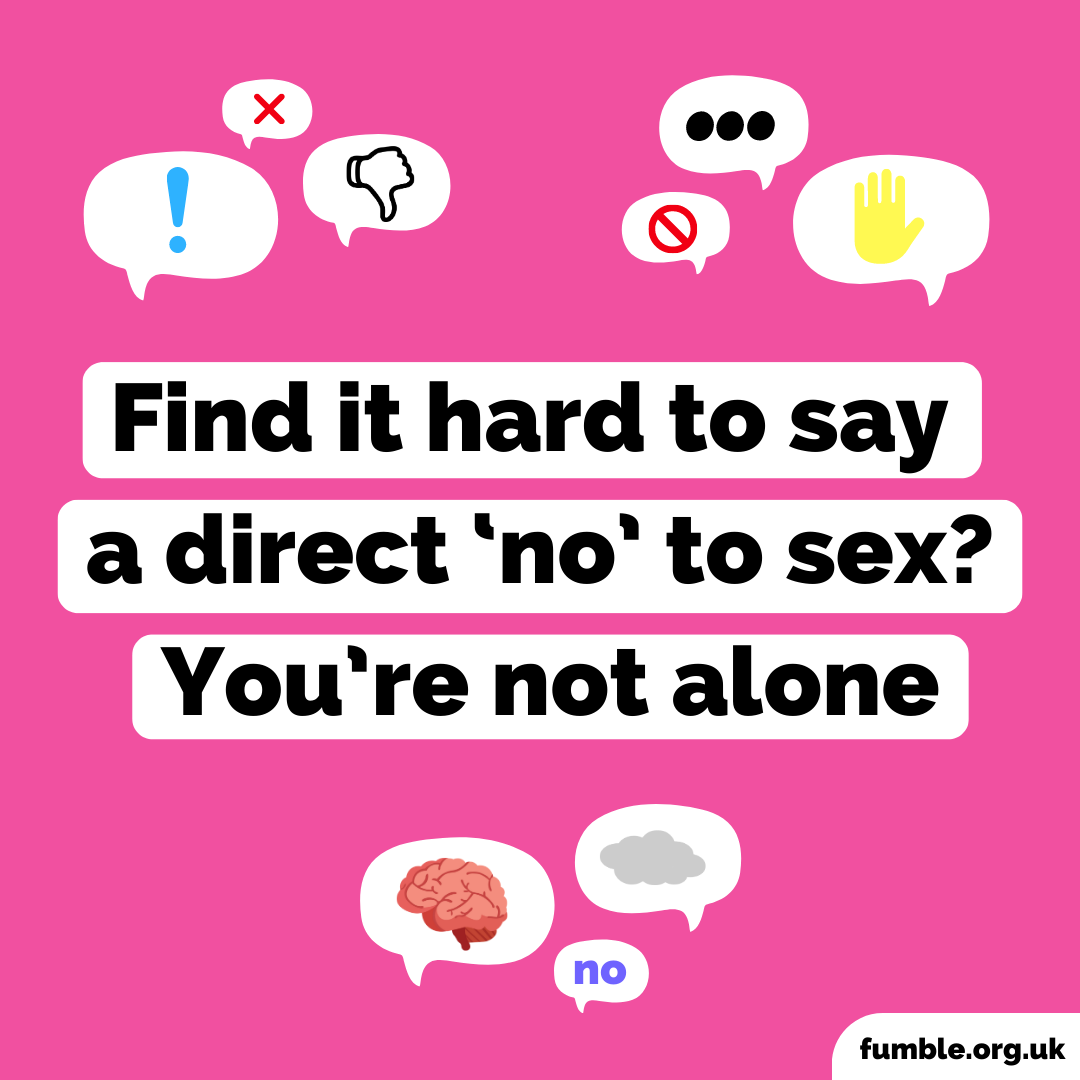 Sometimes, people might find it difficult to say 'no' out loud and instead might indicate that they're not enjoying themselves and want to stop in non-verbal ways, using their body language.
Here are some signs that show someone isn't enjoying what's happening and wants to stop:
🛑 Freezing up, feeling stiff and tense
🛑 Not looking at you, turning their head away from you
🛑 Crying
🛑 Silence
🛑 Flinching and moving away from you
🛑 Shaking
🛑 Looking frightened, unhappy, sad, panicky, or frowning
🛑 Sleeping, being unconscious or passing out (most likely because of alcohol/drugs)
🛑 Looking confused or not making sense
Why consent is key to building a loving relationship
Consent is all about being aware of your partner's body language and giving them opportunities to tell you how they feel. Like in Heartstopper when Charlie is kissing Nick's neck and can tell he is distracted and not fully into it. Charlie stops and asks Nick if what he's doing is okay. Nick (very unconvincingly) says it is, but Charlie isn't convinced and checks again that Nick is okay. This allows Nick to open up, and for them both to have a conversation about what they do and don't feel comfortable doing together. The more thought that goes into communication, building trust and considering each other's feelings, the better the sex and physical intimacy will be, and the more fun you'll have together. Ultimately, sexual consent is about care and checking in.
Find out more about consent, sex, and relationships.