Writer's Club #5: Unless Someone Like You Cares
By NCS
Include this article in your Skills Builder Journal. It could help you develop... 


A little while ago, we held a competition to create a new club of writers. Over the next few weeks, we'll be introducing you to our winners, and the entries they submitted that got them their spot! This entry was submitted by Elise and draws comparisons to our world and what we can learn from The Lorax…
"Unless someone like you cares a whole awful lot, nothing is going to get better. It's not."
Isn't it strange how such a melancholy phrase creates so much hope?  Somehow Dr. Seuss managed to turn our eyes to a brighter future by showing us how dark the present can be.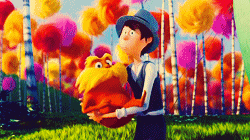 The Lorax (the story this poignant quote originated from) was a wonderful, star-studded film, and for some, it was the spark that ignited their desire for  environmental justice. It takes place in Thneedville, an artificial city made almost entirely of plastic – hedges are inflatable, trees come with remote controls, and residents are forced to pay for clean air. Ted, a teenage boy desperate to find a real tree, is the main character and we follow him on his journey. He comes across the mysterious Once-ler who makes him listen to his story in exchange for a seed. Through singing fish, upbeat musical numbers and an angry, orange environmentalist, we see the younger Once-ler demolishing the beautiful Truffula Trees to create a trendy, multi-purpose product called the Thneed. Obsessed with profit and without a care for the environment, he drowns his idealistic, caring personality in thick clouds of superfluous money. Unable to control his intense greed, he loses everything when the last tree is cut down and the surrounding nature is utterly decimated, leaving another young entrepreneur to create the synthetic town we saw at the start. Nevertheless, we end on a hopeful note as the city, led by Ted, embraces the importance of nature. The Once-ler starts to replant the trees he stole and we are reminded once again of that remarkable quote. 
Watching this as a young child with eyes full of wonder and imagination, I was  struck by how one person could cause a tsunami of positive change, even in a  community so incredibly set in their ways. Immediately, I wanted to be like Ted (as I'm certain many others did) and at that moment my interest in environmentalism began to bloom. 
Looking back in the middle of a climate crisis, I can't help but think about how naïve I was. I was certain that if everyone watched The Lorax, planted a tree and "let it grow", we could overcome anything. Of course, the film was made for children – they could hardly terrify us with brutal realism, that would kill our spirits instead of rallying them. But no one prepared us then for how horrible climate change would really be. How it wasn't simply plastic plants and claustrophobia-inducing city walls. How our entire species would be threatened when our carbon footprint crushed the planet.
Take Tuvalu for example. With a population of just under 12,000  and an average elevation of less than two metres, these Polynesian islands are on the front line of the battle between planet and people. Residents of Thneedville had a false sense of security to protect them from their fictional troubles; for Tuvaluans, their harsh reality is the active threat of rising sea levels which are rapidly devouring the land like bloodthirsty beasts. Scientists predict that by 2050 it will be completely underwater, or "drowned" as many of the locals call it, but they are not going down without a fight. Since 1997, the country has  been campaigning for a reduction in greenhouse gas emissions, the main cause of climate change. In 2002, they challenged the United States and Australia (two of the biggest emitters) with a potential lawsuit, refusing to be disrespected by developed countries who have abundant and effective resources to protect themselves against the impact of climate change. Furthermore, in 2017, the prime minister launched the Tuvalu Coastal Adaptation Project, costing almost US$40,000 and financed by the Green Climate Fund and the government of Tuvalu. This project aims to protect over 2,200 metres of extremely vulnerable coastline, proving the strength and determination of these people. Yet, despite all this, Tuvalu continues to suffer. Developing countries like this are harmed the most even though, because of  their much higher consumption of goods and energy, it is developed countries who cause the most damage to the atmosphere. We must all take responsibility by reducing our carbon footprint and fighting to save islands like Tuvalu before they are lost forever. 
Though we, as citizens of a developed country, are far less vulnerable to the  primary impacts of climate change, no one can truly escape its thunderous  grasp. At the start of the year, southern American states. had their usual high temperatures snatched away and replaced with a winter storm that plunged some areas into a state of emergency. Temperatures fell to below -13°C, making parts of the country as cold as northern Canada, and inundations of snow left places like Texas desperate for extra heating. The resulting high demand for electricity quickly overwhelmed the power grid. From mid February, around three million Texans lost power and people were forced to find inventive ways to  stay warm in the face of hypothermia. Overall, 111 people died, a horrifying  reminder of the casualties in this fight for the survival of our ecosystem. The seeming oxymoron of a snow storm in Texas took everyone by surprise and  shows how drastically unprepared we are for everything the new climate could  throw at us. We have been attacking our planet (albeit unconsciously) since the early days of the Industrial Revolution, and now it is striking back with over 200 years' worth of bite.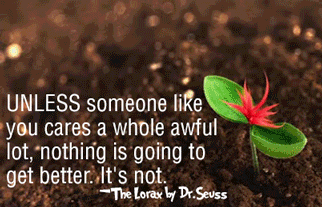 No longer is there room for negotiation. We are one of millions of species that  are lucky enough to call this amazing planet our home, and we are the only ones who can protect it. Be more sustainable, support green charities and vote for environmentally-conscious MPs who can lead change. Because unless someone like you cares a whole awful lot, nothing is going to get better. It's  not. 
Check out some of our other Writers' Club winning submissions! Here's Jessica's piece on our planet's plastic problem, and Molly's piece on environmental issues you should know about.