It's Time For Some Festive Bakes!
By NCS
The festive season is officially upon us, and there's nothing better than whipping up some delicious treats, getting cosy under a mountain of blankets and chomping on down whilst watching terrible (but brilliant) seasonal movies. Here are a few of our fave recipes for this time of year!
Brie And Cranberry Twists
What you'll need:
12 pre made sheets of filo pastry
100g butter (melted)
250g brie (cut in 18 chunky fingers)
18t tsp cranberry sauce
50g walnuts (roughly chopped)
Sprinkle of poppy seeds

What you'll do:
First up, heat your oven to 200C. 
Next, take two sheets of filo and place one on top of the other, with the long edge facing you. 
Brush the top with melted butter and put three bits of brie at even intervals along the bottom, leaving space in between each piece. Put one teaspoon of cranberry sauce along each finger of brie and sprinkle a few walnuts on top.
Roll the filo up from the bottom, to create a long sausage shape, with the brie in the centre. 
Then, cut the pastry roll up into three sections and twist the ends (like a Christmas cracker!) to seal them. Brush with more butter and sprinkle with poppy seeds. 
Do this again with the remaining pieces of brie and filo, so you have 18 twists in total. Pop them on baking trays and bake in the oven for about ten minutes. Let them cool slightly before tucking in!

Christmas Dinner Sausage Rolls
What you'll need:
375g ready made puff pastry
200g turkey thigh mince
50g dried stuffing mix
6 chipolatas
2 heaped tbsp cranberry sauce
1 egg (beaten)
16 sage leaves
Gravy, to serve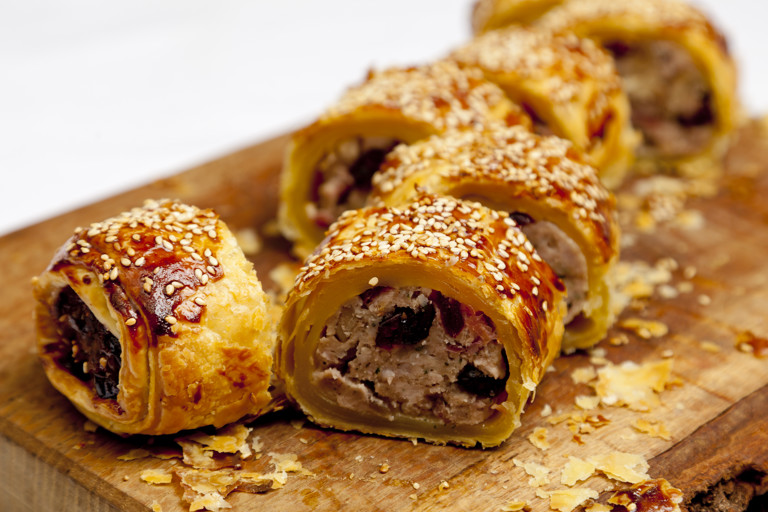 What you'll do:
First up, heat your oven to 200C. Then, line a large baking tray with baking parchment. 
Unroll your pastry and cut it in half, lengthways. Spread the cranberry sauce down the middle of each half, leaving a one cm border around each edge.
In a big bowl, mix together the turkey, stuffing, and one tablespoon of water. Season with salt and pepper and then spoon the mixture over the cranberry sauce, pressing it down slightly. Take your chipolatas and put them in a line along the middle of the mince mixture. 
Next, brush some of the egg along one edge of the pastry halves and fold it up over the filling. Press lightly to seal, making two long sausage rolls. Roll the pastry over so the seams are on the underneath, and cut each roll into eight pieces, giving you 16 in total. Put each roll onto your baking tray.
Brush the top of each sausage roll with the remaining egg and press a sage leaf onto the top. Pop into the oven for 25-30 minutes, until golden brown. Then, enjoy! Gently heat your gravy and serve together as a dip!

Vegan Mushroom Wellington
What you'll need:
1 sheet vegan puff pastry
750g mushrooms (finely chopped)
125g cooked lentils
1 large onion (finely chopped)
4 garlic cloves (minced)
150g spinach
100g walnuts (chopped)
1-2 tbsp olive oil
2 tbsp mustard
4 twigs of thyme
60g vegan parmesan
2-3 tbsp oats
2-3 tbsp plant milk
Sprinkle of turmeric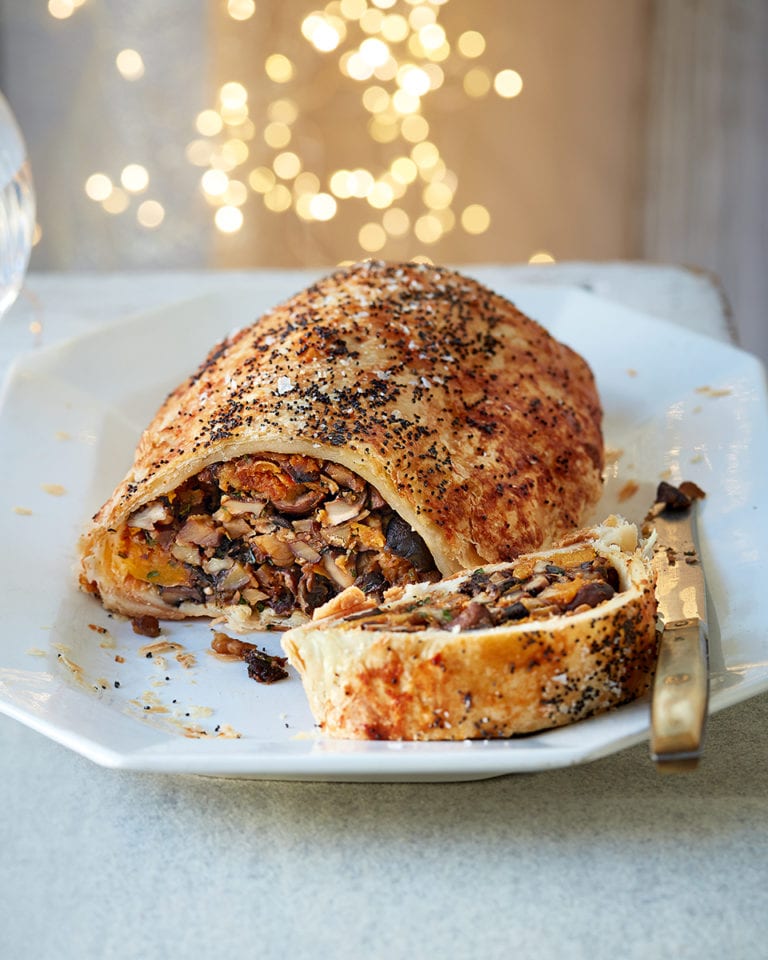 What you'll do:
First up, heat your oven to 200C.
Then, it's time to make the filling. Heat up one tablespoon of oil in a pan and add your onion. Cook for about three minutes, until translucent, and then add your mushrooms. Season with salt and pepper and cook for about five minutes until they are brown. Take out of the pan and rest on some paper towels. 
Put your pan back on the heat and throw the garlic in, cooking for a few seconds before adding in the spinach. Cook for a couple of minutes until wilted. Take out of the pan and drain in a colander. 
In a bowl, add your cooked lentils, mushrooms, onion, spinach, walnuts, mustard, vegan parmesan and oats. Stir until combined and season with salt and pepper. Pour the mixture onto a big sheet of csling film or foil, and wrap tightly into a sausage shape. Pop in the fridge until cool. 
Once cool, put the puff pastry on a baking sheet, take the filling out of the foil/cling film and place in the middle of the pastry. Carefully fold one side of the pastry over, and press lightly to seal. It should look like a big sausage roll. Gently roll the wellington over so the seam is underneath, and brush with your plant milk. Gently cut some little slits in the top of the wellington, to allow steam to escape. 
Put in the oven for 20-25 minutes, until golden, puffed, and flaky. 

Spiced Apple Crisps
What you'll need:
2 Granny Smith apples
Cinnamon, for sprinkling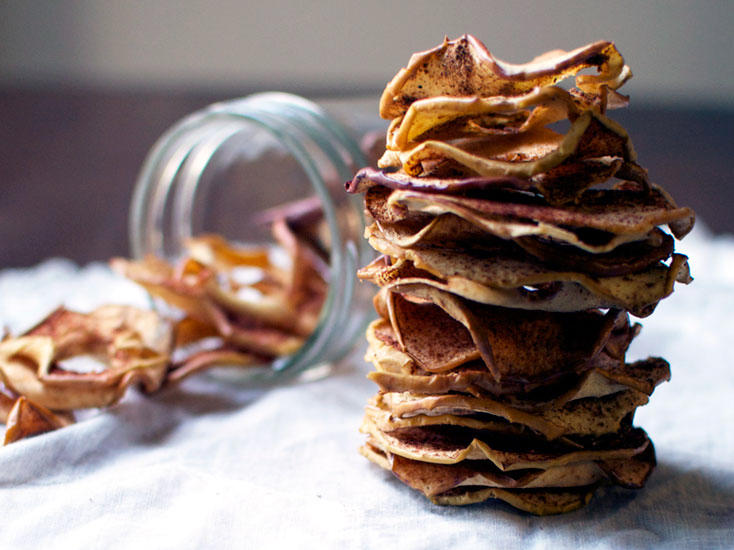 What you'll do:
First, heat your oven to 160C. Then line a baking tray with parchment paper.
Then, core your apples and slice as thin as you can (approximately one to two mm thick!). You can do this in rounds, or in segments, depending on how you've cored the apple. 
Place each slice on the baking tray and dust generously with cinnamon.
Put them in the oven for 45 minutes to one hour, turning halfway through cooking and removing any crisps that have turned brown. Continue cooking your slices until they have dried out and are light golden.
Let them cool and then enjoy the spicy goodness!

Rosemary, Garlic and Chilli Popcorn
What you'll need:
150g popcorn kernels
2 tbsp rapeseed oil (or other neutral oil)
2 garlic cloves (slightly squashed)
1 tsp chipotle or other chilli flakes
½ bunch of rosemary (finely chopped)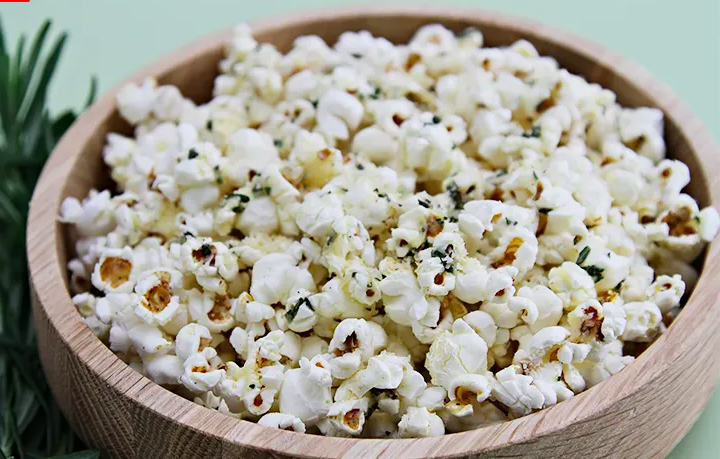 What you'll do:
Heat the oil in a saucepan over a medium heat. Fry your garlic, chilli, and rosemary for two to three minutes. Remove from the heat and set aside, leaving it all to infuse together for thirty minutes.
Once infused, cook your popcorn according to packet instructions. 
Then, scoop the garlic out of the infused oil and discard. Toss the popcorn with the remaining infused oil, and serve straight away!

Non-Alcoholic Mulled Wine
What you'll need:
500ml pomegranate juice
250ml apple juice
25g golden caster sugar
Handful of frozen blackberries
1 cinnamon stick
1 star anise
4 cloves
3 black peppercorns
1 orange (quartered)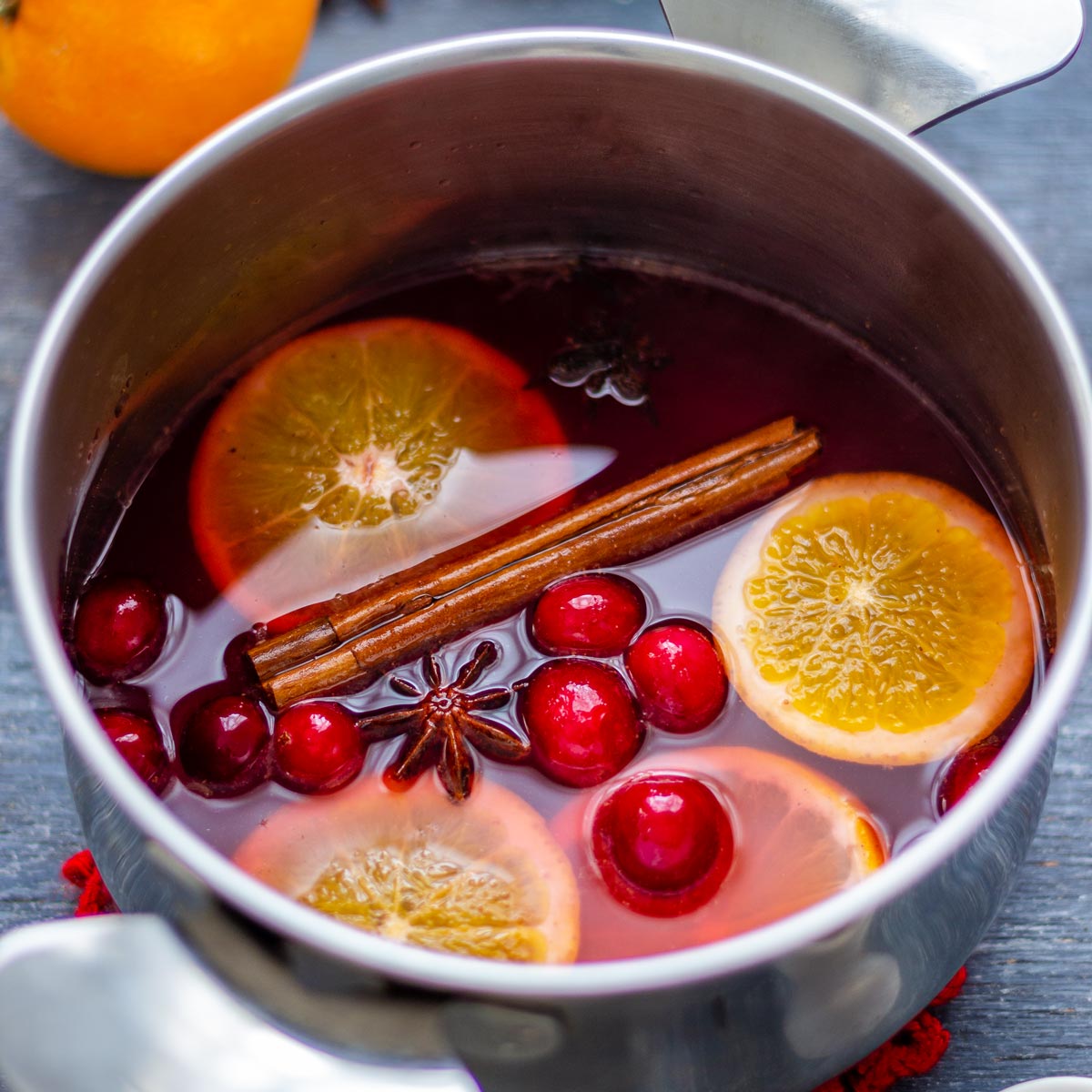 What you'll do:
Put all your ingredients in a saucepan and heat gently until simmering. Taste for sweetness, and add a little more sugar if you want to. Once it's warm and tastes right for you, strain into mugs and enjoy!