Understanding Climate Anxiety
By NCS
Writers' Club member Jaden gives advice on facing fears and practising awareness…
Growing up in Norfolk I used to spend most of my summer holidays at the beach. Weekends were spent building sandcastles and collecting seashells by the pocketful. My sister and I would play among huge chalk stones that had fallen off the cliffside over thousands of years. When the heat got too much, we would sprint into the cold sea, tip-toeing over the pebbles into the soft sand beds.
I live in the Midlands now, in an area much further away from the sea. When I tell people I'm originally from Norfolk sometimes they wince. "Gosh" they say, "aren't you worried about the rising sea levels? Isn't there only about 50 years left?" I never know what to reply, I don't have the words to respond to the idea that my hometown and the backdrop to my childhood might be underwater within my lifetime. I say something like, "I haven't really thought about it."
And, on one level that's true.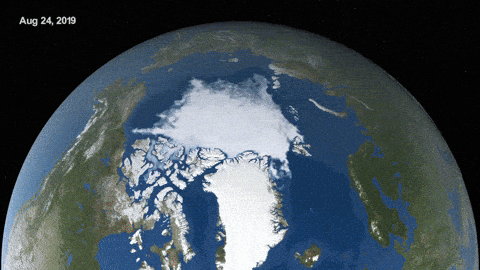 I've been avoiding thinking about it, or doing research into the rising sea levels, because I know there's a danger I'll feel overwhelmed before I even get close to the right information. So, I decided to start by investigating climate anxiety itself, hoping to understand more about how to cope with the overwhelming feelings.
One of the first things I learned about climate anxiety is that noone experiences it in exactly the same way. Those facing forced migration and famine are likely to experience high anxiety, as their safety and security are under imminent threat. 
I'm not facing that same threat, but I'm still aware that my panic around climate anxiety has peaked in the last few months. Climate Psychologist, Renee Lertzman, is an expert in helping people understand climate anxiety. Renee believes we each have our own window of tolerance when it comes to anxiety, and that constantly exposing ourselves to devastating news often pushes us outside of this window. At that point, we start to experience either complete apathy or intense anxiety.
This sounds familiar, as my anxiety peaked due to the release of the Emissions Gap Report. Every time I opened my phone, there was a storm of information being blasted at me. From activists covering a masterpiece in soup, to scaling the Dartford Crossing, brave people are going to extremes to get the world's attention. Sometimes it's hard to see past the clickbait and the lengthy discussions on the politics of activism, to get to the core facts. It can all feel too much.
So, it's important to practise awareness of our individual windows of tolerance. We can ask ourselves questions like "Have I been over-exposed to bad news on social media?" Showing ourselves compassion, and being curious about our own internal workings, can help us to stop feeling overwhelmed or shutting down. And it's good to remember that we don't always need to be comfortable. Long-lasting systemic change, like the change needed to prevent climate disaster, will be uncomfortable. We will need to be resilient and compassionate to ourselves and others.
There is no cure for climate anxiety. However, we can all be curious about our own window of tolerance. I still haven't felt comfortable looking into the ways climate change will affect my hometown and favourite beaches, but I did push myself to write this blog. Throughout my research I have seen that I am far from alone in my anxieties, and knowing that others feel this way is affirming and comforting. I have also felt less shame around my avoidance and denial, knowing that this is an unconscious attempt to protect myself from being overexposed to overwhelming information.
A summary of my top tips:
- Use reliable sources
Make sure the information you consume is sourced from reliable places and has scientific data to back it up. The Emissions Gap Report or organisations like the United Nations use established scientific research methods to gather their data.
- Avoid doomscrolling
Over-consuming stressful media is going to increase anxiety and close up our windows of tolerance, making us less able to take action in meaningful ways.
- Talk about it
Look to friends, family and community to share your feelings. It's important to know that we aren't alone in our feelings and the people around us are here to listen.
- Listen to yourself
We all have our own window of tolerance when it comes to climate anxiety, so become curious about your own. Make decisions about what kind of activism you engage in, and check that it respects your individual boundaries.