How To Be A Public Speaking Pro
By NCS
Written by NCS in collaboration with Loud Speaker, an organisation that gives young people public speaking skills so they can speak out and speak their best. FYI, Loud Speaker often give workshops on NCS away from home experiences!
7 min read 
---
Have you ever had to do a presentation at school or college, and the fear of public speaking made you feel like butterflies were having a party in your stomach? Or you got tongue tied over your words? Felt sweat dripping down the back of your neck? 
Public speaking anxiety can sometimes feel so overwhelming. Thankfully, Loud Speaker are here with their top public speaking tips and advice on how to build public speaking skills to stop those butterflies from going wild.
WHY A FEAR OF PUBLIC SPEAKING IS SO COMMON
According to a recent study, around 75% of people have a fear of public speaking that's bigger than their fear of death!! It's a fact, that whether it's standing up in front of a room of people, speaking up in a work meeting, or delivering a presentation at school, public speaking fills most people with horror and is something loads of people actively avoid. But remember, we are all in the same boat.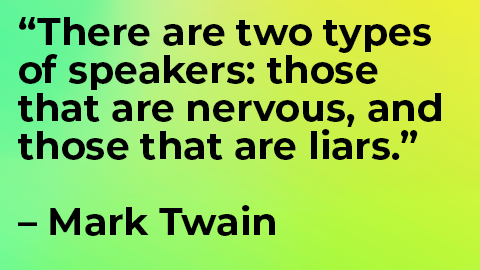 HOW TO OVERCOME YOUR FEAR OF PUBLIC SPEAKING
I'm sure you've seen a baby trying to walk for the first time. They won't be that great at it, at first. One or two steps, at best, and they're straight back onto their hands and knees. If we didn't have the knowledge that they were going to get it right eventually (because we all do), we'd probably tell them never to try that again.
But babies have a certain resilience that we can all admire. They try, they fail, they try again until they get it. So the question is, what happens to that part of our mindset as we grow older, into teenagers and adults? We try, we fail — we hope nobody will remember it and avoid doing it again at all costs.
A lot of our first experiences of public speaking went something like that. And the bad news is, if you have a fear of public speaking and therefore avoid it, you're missing out on loads of good stuff. Developing public speaking skills can help you: 
The good news is that overcoming the fear of public speaking is not that deep. We've got a few simple ways to take you to the next level when speaking, hide any public speaking anxiety, and get people to buy into your message, whatever that may be.
And there are public speaking tips to help you do that.
Ready? Let's do it… 
PUBLIC SPEAKING TIPS 
Tip 1: P all over your presentations!
Okay, not literally, although sometimes the nerves can get quite high! But this public speaking tip can help you to remember to include all those important P words when presenting. 
Pace. Slow down to build suspense and add anticipation, but speed up to add excitement and reach the climax of your story.
 
Posture. Stand with your feet planted at a hip distance to avoid nervous swaying, and stand tall to engage your diaphragm to allow more oxygen and travel of your voice.
 
Pronunciation. Eat at your words. Really enunciate when you speak to allow everybody in the room to fully understand each sentence.
 
Pause. Sometimes saying nothing at all can be the loudest thing you do! Pause after saying something you want the audience to digest and think about. As well as being effective, it also gives you five or ten seconds to regroup your thoughts or take a sip of water.
 
Passion. Showing the audience you genuinely care about what you are talking about is the quickest way to peak engagement! You can show you care with your facial expressions, voice variation, and knowledge. Remember, people buy into people BEFORE the idea!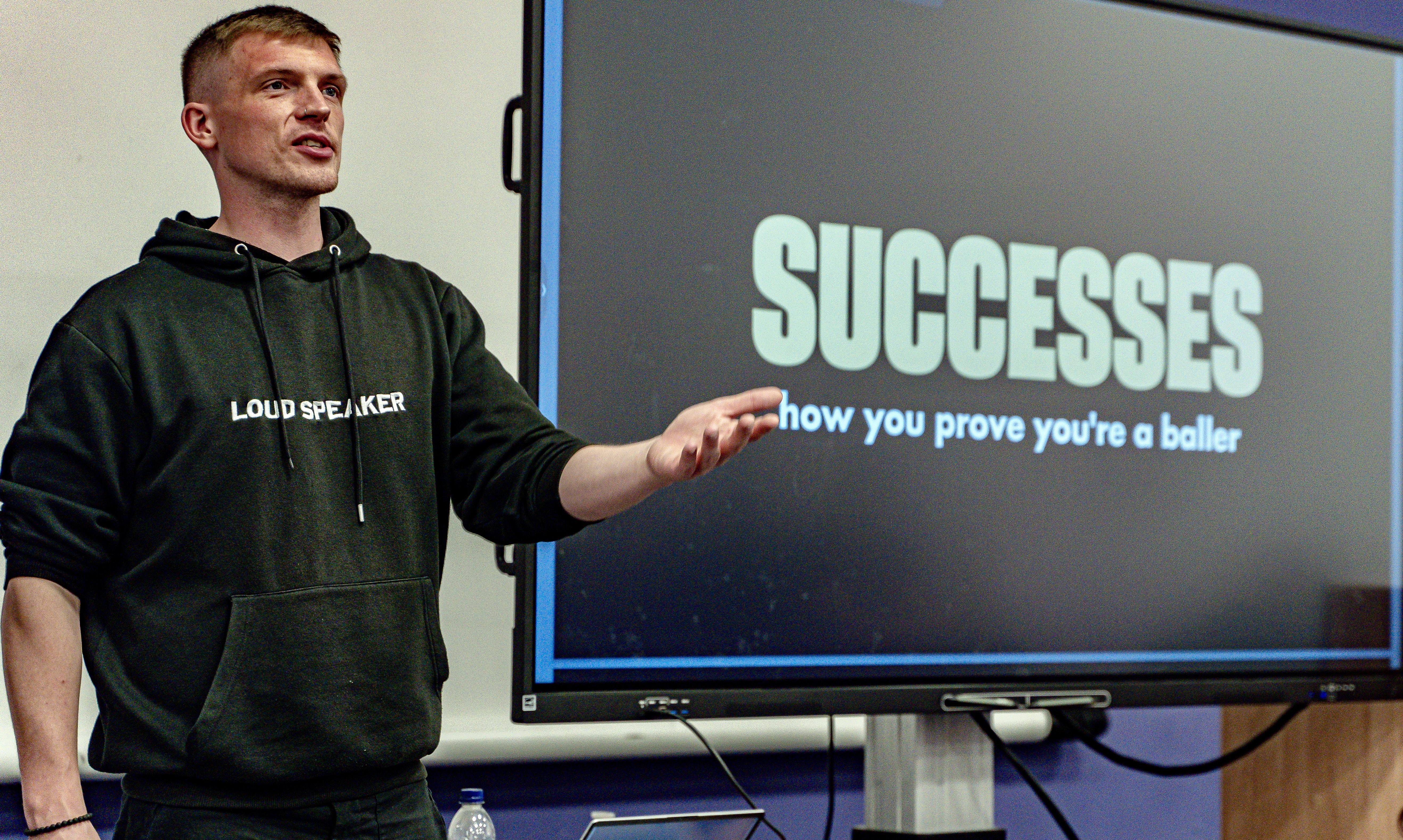 Tip 2: Own Your Space
Posture is so important, it gets its very own tip! That's because the road to public speaking perfection starts with owning your space. Firstly, you need to feel confident where you're standing and, secondly, you need to look confident where you're standing.
The key, when it comes to public speaking skills, is finding the right stance. Luckily, finding your stance is easy:
First, stand with your feet just wider than shoulder-width apart. 
Then, take a decent jump on the spot (preferably not in front of your audience) and you should land in the right place.
From there, learn to feel confident talking whilst standing still —– owning your space is often more about showing you have the confidence to stand still in your space than using as much of it as possible.
Tip 3: The Z Technique
'Eye contact anxiety' is the discomfort a person feels when looking at someone directly in the eyes. When public speaking, this can make or break a presentation. If your audience doesn't feel like they're involved in the presentation, they'll lose interest in what you are saying which in turn means they lose interest in you.  
The 'Z technique' will help you to get used to addressing an entire room and not just one or two familiar faces. 
When you start speaking, focus your gaze on the person sitting in the top left of your audience.
 
Gradually shift your gaze across the top few rows until you reach the person sitting in the top right of the room.
 
Then, cut your gaze diagonally through the middle of your audience until you reach the person sitting in the bottom left of the room.
 
Now, shift your gaze across the bottom few rows of people until you reach the person sitting in the bottom right of the room. 
Follow the same movement back up the Z shape and repeat, stopping at certain people along the way to hold brief eye contact. Keep doing this while presenting and in no time you'll be able to confidently engage 200 people!
Tip 4: Bring the Energy
Fact: Your audience will never bring the energy you need for a talk, so you have to bring it. 
One of the first things to go if we're nervous when public speaking is our smile, but that smile is crucial in winning your audience over! People buy into people that they like, and that same principle applies in job interviews. So even if you're not happy to be public speaking because you're nervous, make sure the last thing you tell yourself before you start is 'remember to smile'!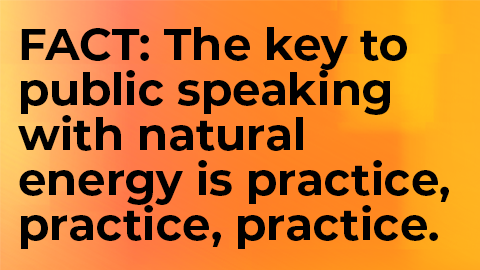 When we're not completely confident in the words we're saying, we tend to retreat to what's safe — and that usually means sucking all the energy and fun out of our delivery. Get practicing, so the words you're saying are second nature and you can just concentrate on delivering those words with maximum impact.
Tip 5: Fake it 'til you make it
Becoming confident and professional when public speaking may not happen overnight, but these tips will make a big difference immediately. The next time you speak, you may be just as nervous as the last but now you have the public speaking skills and tools to hide those nerves!
DEVELOPING YOUR PUBLIC SPEAKING SKILLS
By showing yourself you can do public speaking, over time it will get easier. If you start saying yes to every opportunity to put these public speaking tips into practice, eventually speaking professionally will become second nature and any public speaking anxiety will disappear. No more shaky hands, sweaty palms, wobbly legs, and dry throat.
Sounds good? Grab your place on an NCS experience where there's a good chance Loud Speaker will be doing a workshop. 
Just like the baby who's now walking happily without a second thought after falling flat on their face the first time, you'll soon be mic-dropping like the very best — it just takes the right fundamentals and a few failures along the way! You'll eventually succeed in smashing that presentation, getting that dream job, or bagging your preferred university place. The earlier you start overcoming your fear of public speaking, the more you'll gain. 
So just remember...be more like the baby!
Fail. 
Wobble. 
Go a bit wonky. 
And then shine like the public-speaking baller you are!
Read more:
Want more tips and tricks to help you polish those public speaking skills? Loud Speaker could honestly write a book on it, and maybe they will... but for now they like giving out free stuff. Be sure to follow them on Instagram @loudspeakerlive.