Five Bullies In Film Who Got What Was Coming To Them
By NCS
If there's one good thing about seeing bullies in films, it's that you know at some point, they're going to get a taste of their own medicine, their comeuppance, a big ol' slice of humble pie from karma itself. So let's take a look at five of the best (/worst!) bullies and how they got their unhappy ending…
Sid Phillips
There's nothing scarier for toys than seeing a kid tearing apart their toys to make Frankenstein monsters of their own. And for Woody and Buzz in Toy Story, it's Andy's next door neighbour Sid that does this. After accidentally getting stuck in Sid's house, the gang know they need to come up with a plan to teach Sid a lesson and show him he's messing with the wrong toys. Teaming up with Sid's 'mutant' toys (after finding out that they themselves are nothing like their owner!) Woody puts together a plan. The toys all appear out of nowhere and approach Sid, making him increasingly scared. Woody comes to life in front of Sid's face, telling him that if he doesn't take care of them, they would know. This all becomes too much for Sid who screams vows to change his ways!
Regina George
Queen of The Plastics in cult classic Mean Girls, Regina spends her whole high school life making other people feel miserable. From fake complimenting people's fashion, to setting up sneaky three-way phone calls, and of course, slandering people in the Burn Book. But when Cady Heron joins the school, she gives Regina a taste of her own medicine, by falling for her boyfriend, changing the way she looks, and making her best friends see what she's really like. It's like, so fetch.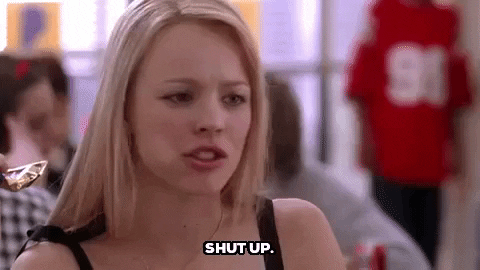 Johnny Lawrence
Johnny is part of the Cobra Kai dojo in The Karate Kid. When he gets into a mishap with Daniel LaRusso (aka the karate kid), all bets are off. Johnny and the rest of the Cobra Kai gang revel in harassing Daniel and beating him up. But this doesn't last long, because in comes Mr. Miyagi, who takes Daniel under his wing and turns him from a vulnerable kid to a karate master. Daniel and Johnny face off in a final fight at the All-Valley Tournament, where Daniel becomes champion and shows Johnny why he really can't be messed with.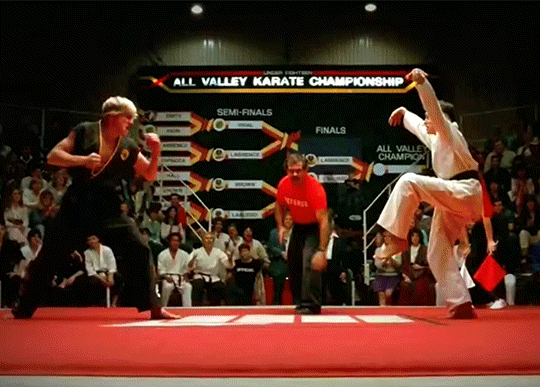 Lana Thomas
In The Princess Diaries, Lana is your typical high school bully. She's the captain of the cheerleaders, queen bee of her circle, and loves to pick on the 'unpopular' kids. And that's basically the life for Mia Thermopolis, who is what Lana would deem 'ugly' or 'nerdy'. Cut to Mia getting a visit from her grandmother, and finding out she's not just a regular high school girl, but actually heir to the throne of Genovia. A real life princess. A classic movie makeover montage later and Mia looks different, feels different and makes Lana regret everything she's done. She even finds it in herself to smush an ice cream cone into Lana's cheerleading outfit and remind her that whilst she herself may "grow out of being a freak", Lana will "never stop being a jerk".
Flash Thompson
In The Amazing Spider Man, Peter Parker comes up against Flash, a high schooler who loves to torment him for being "an egghead". While Flash is popular, loud, and confident, he sees Peter and shy, withdrawn, and studious…a perfect blend of 'nerd'. Their rivalry is well documented in lots of cinematic iterations of Spider Man, and Flash eventually becomes uber-bully Venom. But in this version, it's the little things that take down Flash and allow Peter to show him up. When Flash purposely ruins a painting with a basketball, Peter uses his spidey senses and skills to show him up on the court and make him feel the humiliation he serves to everyone else.