Feel-Good Autumn Recipes
By NCS
6 min read 
---
It's the time of year to get cosy in the kitchen! Whether you're cooking for yourself or your parents or friends, these autumn recipes are all easy to follow. Whether you cook an autumn soup or a deliciously sweet treat, tag us on Insta at @NCS to show us your creation.
AUTUMN SOUP RECIPES
Sometimes there's nothing better than a good autumn soup recipe — it's just a big bowl of yum.
Butternut Squash Soup
Recipe by BBC Good Food. This is one of those autumn soup recipes that feels just right for the season!
Ingredients
1 butternut squash, peeled and deseeded
2 onions, diced
1 garlic clove, thinly sliced
2 mild red chillies, deseeded and finely chopped
850ml hot vegetable stock
2 tbsp olive oil
1 tbsp butter
4 tbsp crème fraîche, plus more to serve
Instructions
1. Preheat your oven to 200C (or gas mark 6).
2. Cut the butternut squash into 4cm cubes, then place them in a large roasting tin. Drizzle over 1 tablespoon of olive oil and toss the cubes until they're all coated.
3. Put the roasting tin in the oven. Leave to roast for 30 minutes or until the butternut squash is golden and soft. Halfway through roasting, give the pan a shake and turn the cubes over.
4. While the butternut squash cooks, melt the butter with the remaining 1 tablespoon of olive oil in a large saucepan, then add the diced onions, sliced garlic clove, and three-quarters of the chillies.
5. Cover the saucepan and cook the onion, garlic, and chilli mixture on a very low heat for 15 to 20 minutes or until the onions are completely soft.
6. Take the butternut squash out of the oven (checking that it's soft and golden) and tip it into the pan with the onion, garlic, and chilli. Then add the hot stock and 4 tablespoons of crème fraîche, before taking the pan off the heat. Using a stick blender, whizz the whole mixture until it's smooth. 
7. When you're ready to eat this autumn soup, gently reheat it on a low heat and season to taste. Serve it in bowls with swirls of crème fraîche and a scattering of the remaining chopped chilli.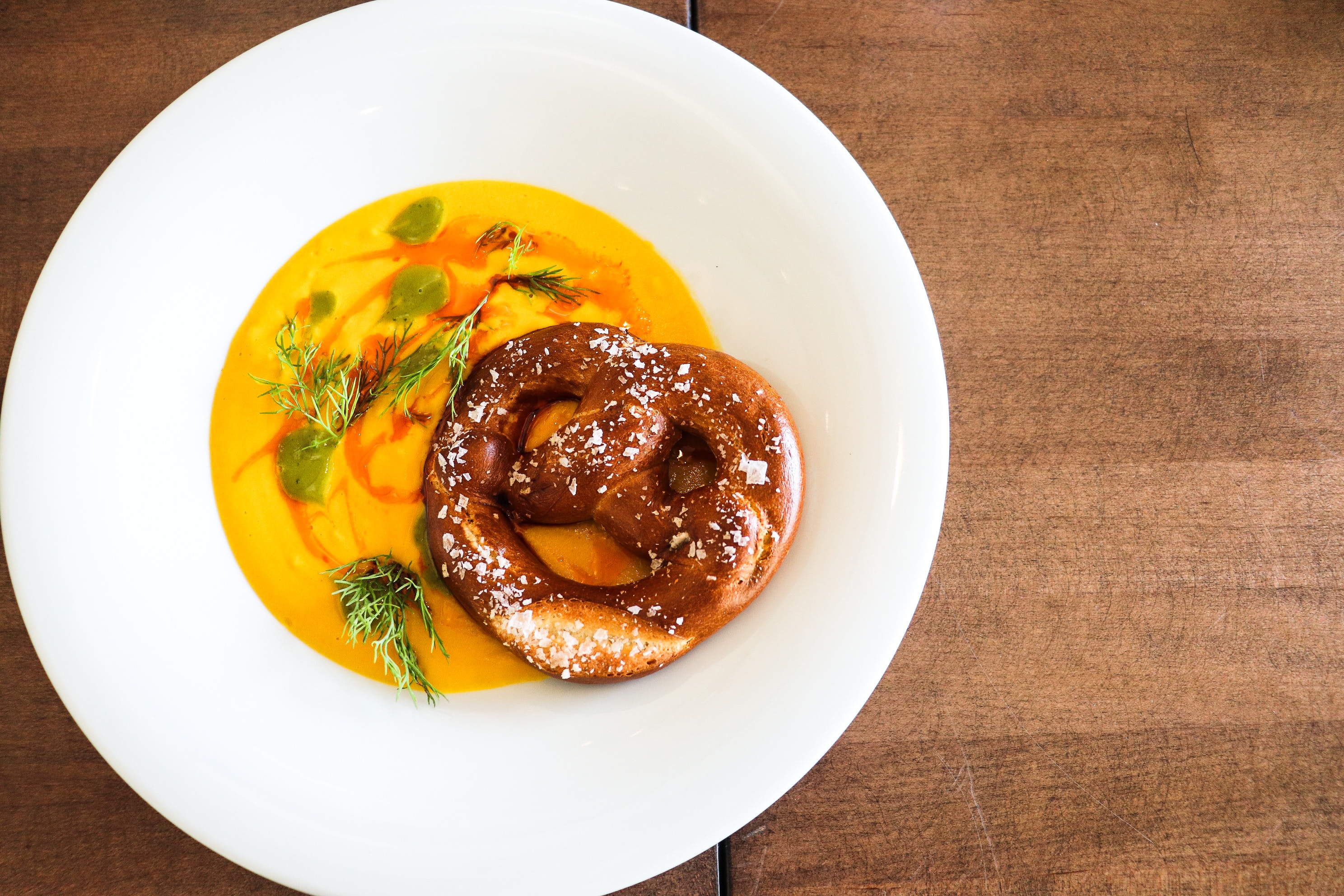 AUTUMN BAKING RECIPES
When the weather starts to turn a little colder, it's time to turn to some autumn baking recipes and sweet treats. Here are a few of the very best!
Pumpkin Muffins
Recipe by BBC Good Food. If you love muffins then you'll love this autumn baking recipe. 
Ingredients
225g plain flour
100g caster sugar
50g soft light brown sugar
200g pumpkin purée (you can buy it in a tin, or make your own)
2 large eggs
125g melted slightly salted butter
2 tsp baking powder
1 tbsp ground cinnamon
Instructions
1. Preheat your oven to 200C (or gas mark 6).
2. Line a 12-hole muffin tin with paper muffin cases.
3. In a large bowl, mix together the flour, baking powder, cinnamon, and both sugars. Break up any lumps of brown sugar by rubbing them between your fingers.
4. In a separate bowl, whisk together the pumpkin purée and eggs. Then add in all the dry ingredients along with the melted butter. Whisk everything together for a couple of minutes until combined.
5. Using two spoons or an ice cream scoop, distribute the batter into the muffin cases.  
6. Pop the muffins into your hot oven and bake for 15 minutes until golden. If you want to test if they're cooked, poke a toothpick into the centre of a muffin and it should come out clean. 
7. Take each muffin out of the muffin tray and let them rest on a wire rack. Then enjoy!
Toffee Apple And Pear Strudel
Recipe by Sainsbury's. This autumn baking recipe gives you sticky and sweet strudels — simply delicious!
Ingredients
2 gala apples (peeled, cored and finely sliced)
1 conference pear (peeled, cored and chopped)
1 lemon (zest and juice)
50g raisins
2 tbsp soft light brown sugar
50g mini butterscotch pieces
30g melted unsalted butter
5 sheets of ready-rolled filo pastry
1 tsp icing sugar
Instructions
1. Preheat your oven to 190C (or gas mark 5)
2. Put the apples, pear, lemon zest, lemon juice, raisins, brown sugar, and butterscotch pieces in a large bowl and mix them together.
3. Line a baking tray with baking parchment. Then place one sheet of filo on the parchment and brush it with melted butter. Repeat with the remaining sheets of filo, one on top of the other, brushing each one with butter.
4. Place the fruit mixture along the longest edge of the pastry, leaving an inch of space at either end. Using the baking parchment to help you, roll the pastry up around the filling, folding in the ends to seal.
5. Brush the top of the strudel with the remaining butter, then bake for 20 minutes until crisp and golden. 
6. Once out of the oven, dust the strudel with icing sugar. Then slice and serve warm.
AUTUMN COMFORT FOOD RECIPES
If you're longing for comfort food, then can you do better than a pumpkin spice latte? We think not.
Pumpkin Spice Latte
Presenting the ultimate pumpkin spice latte… need we say more?!
Ingredients
2 tsp pumpkin purée (you can buy it in a tin, or make your own)
pinch of ground cinnamon, plus extra to serve
pinch of ground ginger
pinch of ground nutmeg
30ml espresso or strong coffee
250ml milk (any will work)
Instructions
1. Put the two teaspoons of pumpkin purée into a large mug. Stir in the spices and espresso or strong coffee.
2. Heat the milk in a saucepan over a low heat until steaming and frothy. 
3. Pour the hot milk into your mug, spooning some of the froth onto the top. Stir to combine, then dust with more cinnamon or some pumpkin spice before serving.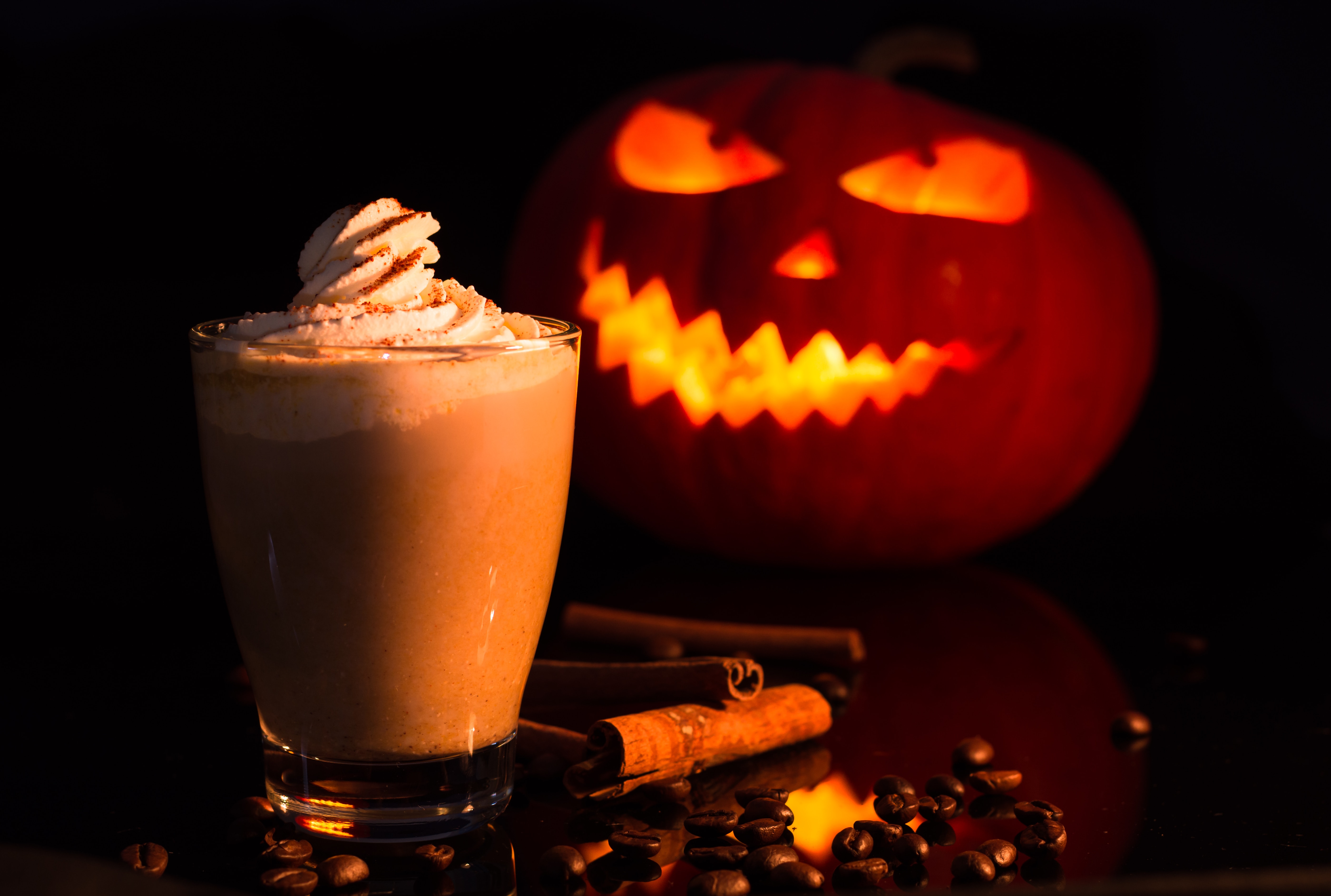 AUTUMN VEGETARIAN RECIPES
To take advantage of all the best seasonal autumn vegetables, like squash, cauliflower, carrots and mushrooms, these autumn vegetable recipes do just the trick.
Cauliflower, Squash & Orzo Gratin
Recipe from BBC Good Food. Orzo is a thin, oval, rice-shaped pasta and it works well in this autumn vegetarian recipe.
Ingredients
1 cauliflower (split into florets, and the stalk cut into cubes)
½ large butternut squash (cut into cubes)
300g orzo (weight before cooking)
4 tbsp mascarpone
75g grated parmesan
2 tbsp flaked almonds
2 tbsp panko breadcrumbs
1 tbsp oil
Instructions
1. Preheat your oven to 180C (or gas mark 4). 
2. Toss the cauliflower and butternut squash in a tablespoon of olive oil, and then spread out on a large baking tray. 
3. Roast for 25 mins or until tender. 
4. While the veg is roasting, cook the orzo by following the instructions on the packet.
5. When cooked, drain the orzo before putting it back into the pan. Stir in the mascarpone and nearly all the parmesan.
6. Take the roasted veg out of the oven, and chop it up into smaller pieces.  Then stir it into the orzo mixture. 
7. Tip the whole mixture into a deep baking dish and sprinkle over the almonds, breadcrumbs, and the rest of the parmesan. 
8. Pop it back in the oven for about 20 minutes, or until the top is starting to brown.
Mushroom ragù with parsnip and carrot mash
Recipe adapted from Riverford Organic Farmers. Mash might be one of the most comforting autumnal foods, but it doesn't just have to be potato — this autumn vegetarian recipe uses parsnips and carrots to create a mouth-watering mash.
Ingredients for the ragù
Olive oil
1 onion, roughly sliced
1 celery stick, finely sliced
4 garlic cloves, sliced
1 tsp smoked paprika
1 tsp dried oregano
1 tbsp tomato purée
2 tbsp red pesto
350ml veg stock
400g mushrooms, chopped
1 tbsp balsamic vinegar
1 tsp tamari or soy sauce
fresh thyme leaves
Ingredients for the mash
400g parsnips, peeled and cut into cubes
200g carrots, peeled and cut into cubes
3 tbsp nutritional yeast
1. In a large pan on a medium heat, add 2 tablespoons of olive oil and the onion and celery. Fry until it's soft (about 8 to 10 minutes).
2. Add the garlic, paprika, and oregano to the pan and stir. Then add the tomato purée, pesto, and vegetable stock and simmer for 1 to 2 minutes.
3. Now add the mushrooms and cook for a further 2 to 3 minutes. Then reduce the heat and simmer for 15 minutes.
4. While that mixture is simmering, make your mash. Boil the parsnips and carrots in a saucepan of boiling water for around 12 to 15 minutes or until they're tender.
5. Drain the parsnips and carrots and transfer to a food processor along with the nutritional yeast and 2 to 3 tablespoons of olive oil. Blitz the mixture until it's smooth and creamy, adding a little water if necessary. Season to taste with salt and pepper.
6. Now that your mash is ready, and your vegetable ragù has simmered, there's one final touch: stir in balsamic vinegar, tamari, and some fresh thyme leaves to the ragù and season with salt and pepper.
7. Serve the mushroom ragù on top of a bed of creamy mash with some extra thyme leaves to garnish.
SHARE YOUR FAVOURITE AUTUMN RECIPE
Tag us on Insta at @NCS to show us your creations. As well as the tasty autumn recipes, there are a lot of other things to enjoy about this time of year — see what our Writers' Club members describe as their favourite things about autumn. 
Read more:
The best-ever brownie recipes 
Recipes for your leftovers
Cooking on a budget