Festive Food... Student Style!
By NCS
NCS grad, Lauren, aka @the.starving.student has pulled together her favourite festive meals that she makes on a student budget. So if you're looking for cooking tricks, and cheap, delicious meals for the Christmas season, you're in luck. Yum! Over to you, Lauren.
If there's an exciting time of the year, it's got to be the lead up to the holidays… With the festive season comes food, and lots of it! Autumn marks the start of hearty, wholesome meals and then with winter and Christmas comes the rise of the baked goodies and sweet treats.
Being at university myself, I have lots of friends who think it's hard or "too much effort" to make delicious festive meals on a tight student budget, but I have some student recipes that will change your mind. 
I create all of my recipes with young people in mind. Not only do I want to inspire every young person to learn how to cook, but I want to prove that healthy and delicious food can be made on a low budget, while also being as sustainable and environmentally-conscious as possible.
So why not surprise your family and friends with some new recipes? My three Festive Winter dishes that never fail are below, so read on and try them yourself!
Roasted Tomato, Garlic & Basil Soup
(VEGAN)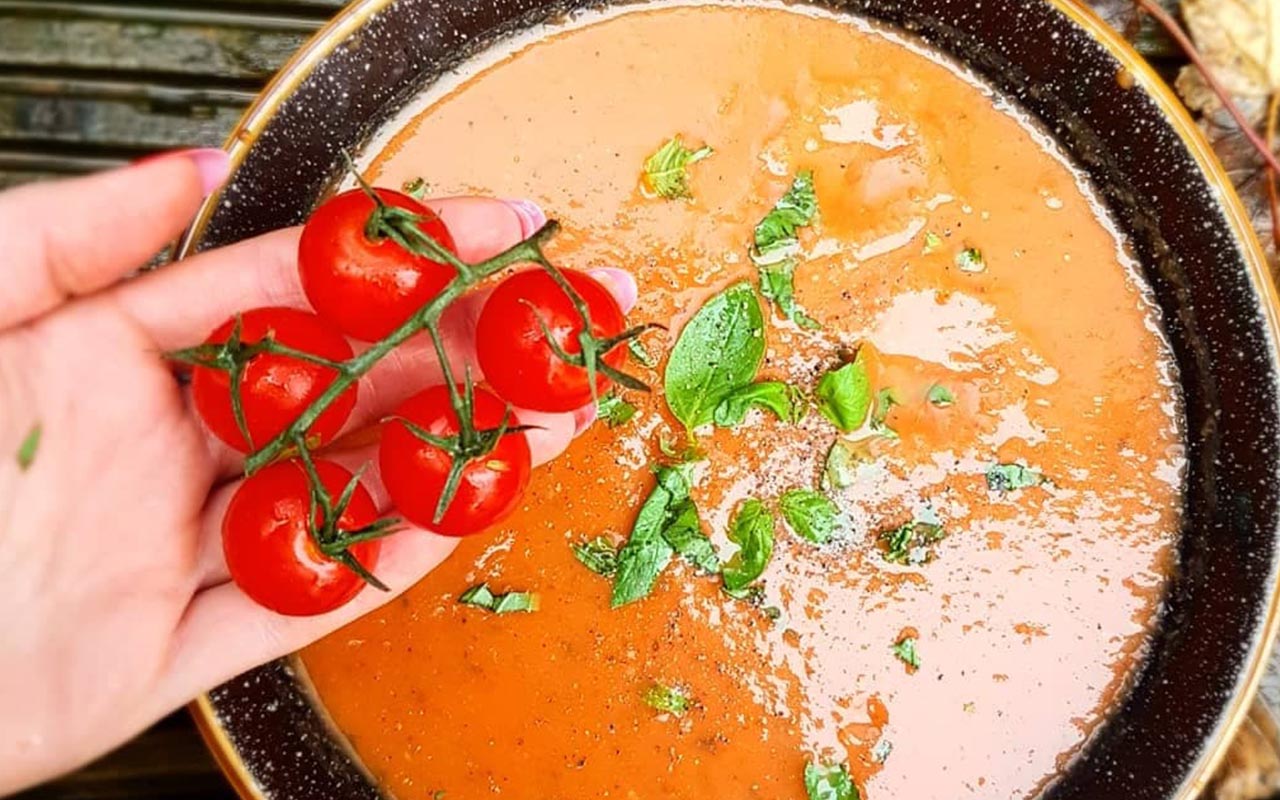 So, one of the easiest and cheapest meals to make is soup. It's hearty, warming and you don't need any special skills. When buying the tomatoes, always try to buy plastic-free loose tomatoes to avoid unnecessary waste. The one thing you will need is a blender, so take note of the following recipe and have a go…
Ingredients:
4 garlic cloves
2 onions (I use red onions)
12 large tomatoes
Roughly 20 cherry tomatoes
Tin of chopped tomatoes
Salt & pepper
1 vegetable stock cube
A large handful of fresh basil
400ml non-dairy milk (optional, makes the soup creamier, you can also use normal milk)
Method:
Preheat oven to 180°C. Chop large tomatoes in half. Peel 3 garlic cloves.
Place it all in a large baking tray with the cherry tomatoes. Drizzle with oil and generously season with salt and pepper. Bake for 40 mins.
Peel and crush the fourth garlic clove. Dice the onions.
On low heat, in a deep saucepan, fry the garlic and onion for 10 mins. Add the chopped tomatoes, 600ml water, non-dairy milk and the stock cube. Season well. Simmer for 20 mins.
Roughly chop up the fresh basil and add to the pan.
Remove tray from the oven after 40 mins and scrape everything into the saucepan.
Blend until smooth and enjoy!
Bacon & Honey-Roasted Root Vegetables 
(THE PERFECT CHRISTMAS TRIMMINGS)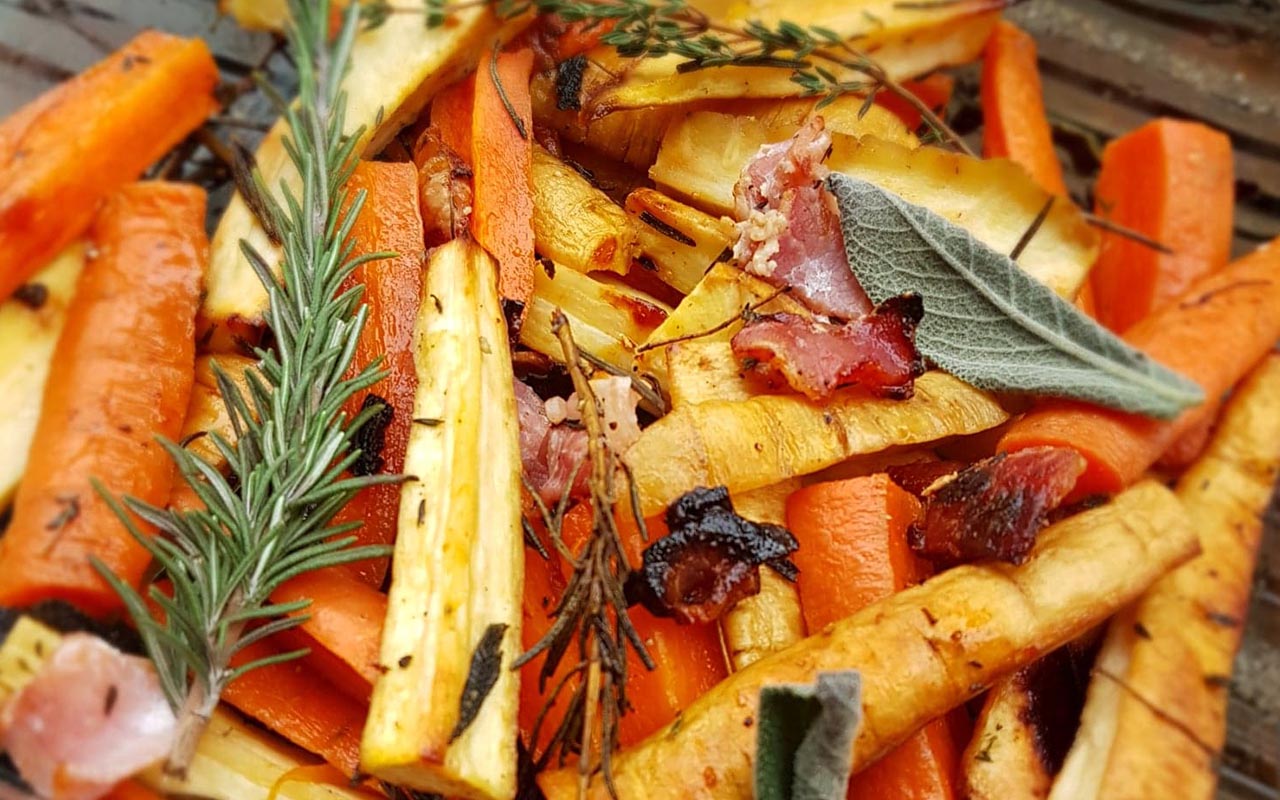 This recipe is something I created because I hate any sort of plain-boiled veg that has no flavour. To avoid food waste as much as possible I do not peel the vegetables as it is all good for us. Not only is this a great side dish for a hearty dinner or Sunday roast, but it is perfect for the Big Ol' Christmas Day! 
Ingredients:
3 garlic cloves
4 large carrots
4 large parsnips
Salt & pepper
3 TBsp honey
3 TBsp oil
6 to 8 rashers of bacon
A couple of sprigs of rosemary, sage, thyme (Sainsbury's does a pack of all 3 for less than £1, but you could use mixed herbs if you can't find fresh herbs)
Method:
Preheat oven to 200°C.
Peel and crush the garlic cloves. Chop the ends off the carrots and parsnips, then cut into strips roughly 1.5cm wide. Chop bacon into small squares.
Add the garlic, carrots, parsnips, oil and herbs to a large baking tray. Generously season with salt and pepper, then place it in the oven for 15 minutes.
Add the bacon squares and drizzle over the honey. Mix well then put into the oven for another 15 minutes.
When the vegetables are slightly charred and the bacon is crisp, remove the tray from the oven, and enjoy!
My Gooey Chocolate Brownies
(VERY CHOCOLATEY AND VERY GOOEY)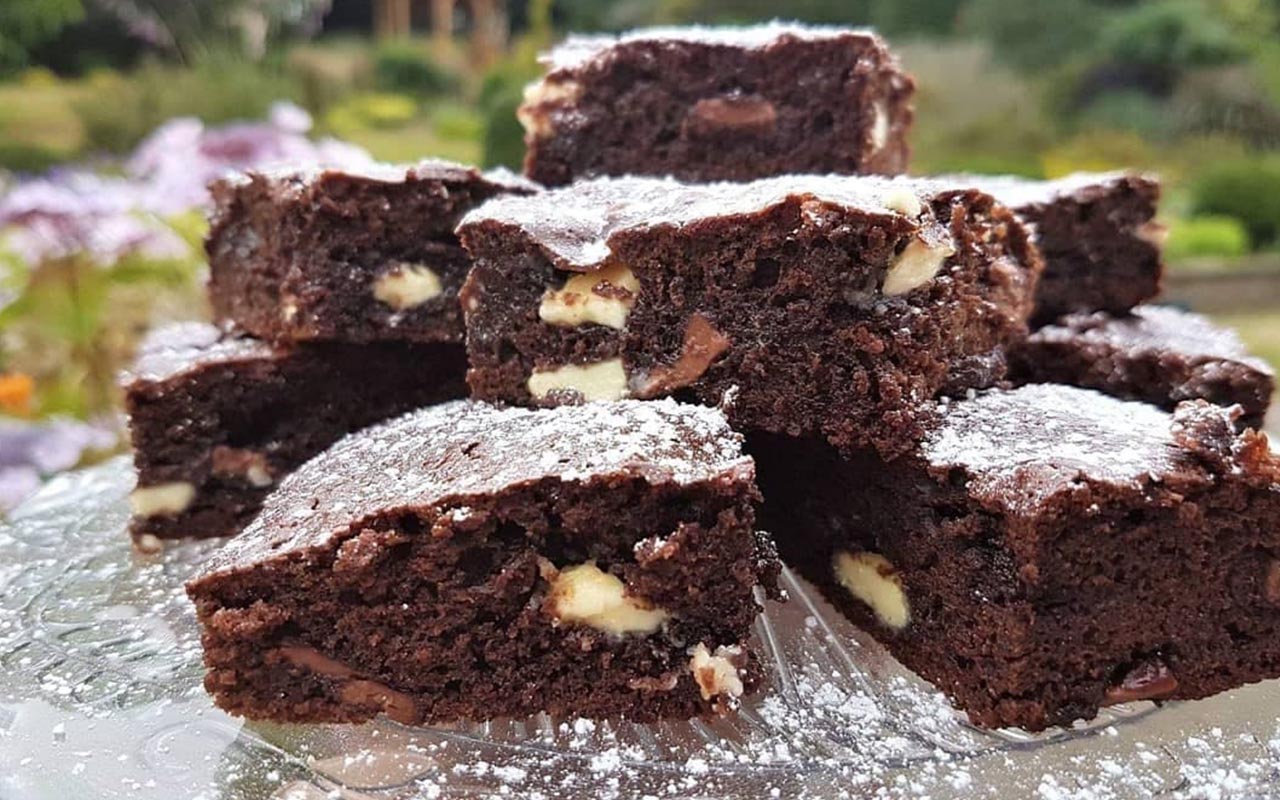 As the shorter days creep up on us, us students always crave a sugary treat to sit in front of the TV with. Baking is something that so many of my friends avoid because of complicated recipes, but my chocolate brownie recipes is SO easy.
I'm not a huge chocolate fan (I know, it's ridiculous), but this is one of my favourite sharing dessert recipes and one of the first recipes I created!
Ingredients:
4 eggs
2 x 100g bars milk/white chocolate
300g light brown sugar
150g plain flour
60g cocoa powder
150g butter
Half a tsp of baking powder
A pinch of salt
1 Tbsp icing sugar (optional decoration)
Method:
Preheat oven to 180°C. In a saucepan, heat butter and sugar until dissolved and smooth.
In a mixing bowl, mix the flour, cocoa powder, salt and baking powder. Then add in the warm butter mixture and stir well.
Beat eggs in a bowl. Break the chocolate bars into chunks. (Your choice how big you want the chunks!) Add eggs and chocolate into the mixture.
Grease a baking tray (roughly 15x30cm).
Pour mixture into tray and bake for 15-18 mins. (It should still be gooey!)
Remove from the oven and let it cool. Cut into 15 pieces. Dust with icing sugar using a sieve.
Now, stop reading this blog and go cook something!