Our Human Rights: Past, Present and Future
By NCS
For 71 years, we've been fortunate enough to have 30 human rights to respect and live by. Yes, there are many exceptions where people's human rights have been threatened and overlooked but, overall we are living in a far more peaceful world thanks to the Universal Declaration of Human Rights (1948). 
What we're wondering, on Human and Animal Rights Day 2019, is how well do these human rights reflect the changing (and additional) needs of 21st Century living? On 1 July 2016, the United Nations deemed Internet access a basic human right. Are there other human rights acts that we should be introducing?
A run-down of human rights history to date 
Since 1948, amendments have of course been made to the Universal Declaration of Human Rights, here's a little overview of how far we've come already.
In 1965, the Race Relations Act was introduced – the first piece of legislation to address racial discrimination in the UK. Despite only covering discrimination in specific public places, it was a start. 
The Sex Discrimination Act was introduced in 1975 which made it illegal for people to be discriminated against sex in areas of employment and education. And this was closely followed by an improvement to the Race Relations Act in 1976, which subsequently made it unlawful to discriminate against race in employment, training, housing and education.
1979 saw the bill of rights for women come into play. This defined what constitutes discrimination against women and set out core principles to protect their rights. And believe it or not, it wasn't until 1984 that the UN Convention against torture and other degrading punishment was introduced. This was the first of its kind, dedicated to preventing some of the most serious human rights violations.
In 1989, governments worldwide promised all children the same rights. The basic premise being that anyone under 18 is born with the same fundamental freedoms and inherent rights as all human beings, with specific additional needs due to the vulnerabilities of being a young person.
It wasn't until 1995 that the disability discrimination act came in, offering legislation for disabled people which covers (amongst other things) employment, education and transport.
By October 2000, the Human Right Act became part of domestic law, meaning British courts started taking cases of human rights breaches.
Another highlight was The Equality Act of 2010. This brought together more than 116 separate pieces of legislation into one single act and formed a new, streamlined legal framework that protects the rights of individuals. It made significant advances in offering equality of opportunity for all.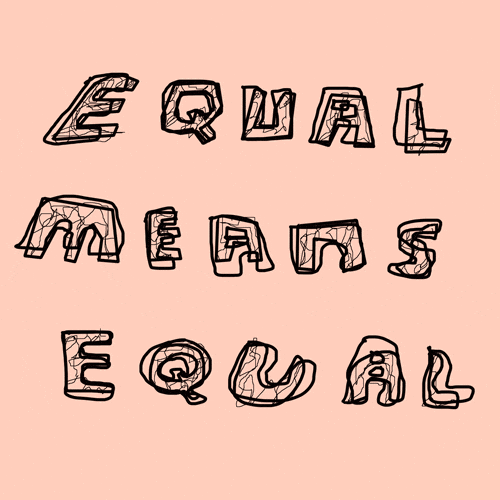 So, what might our human rights of the future be?
Based on recent events, news and trends, we've brought together some ideas. If you think we've missed one, tell us about it on our social media post!
The right to define yourself
From gender identity and sexual orientation to our nationality and religious beliefs, there are a lot of labels thrown around that can cause offence. What if we had a right to define ourselves exactly as we want, and for this to be respected by all?
The right to a life offline
The lines are blurring between our online and offline lives, and yet there's plenty of research that proves screen time can have a negative impact on our wellbeing, leading to higher rates of depression. From education to shopping, many experiences are moving into the digital space – but shouldn't we have a choice as to whether to learn from a book instead of a tablet, for example?
The right to a healthy planet (for generations to come)
We all know climate change is having a dramatic impact on our planet and that we need to take drastic measures to reverse the effects as best we can. Could we introduce a basic human right that addresses the importance of this cause too?