My GCSE Results Don't Define Me
By NCS
By Imogen (she/her), who did her GCSEs a couple of years ago.
---
With GCSE results day coming up, you might feel the pressure or anxiety mounting. But it's important to remember that whatever happens with your results, you should be proud of what you've achieved. And hey, while the results are important, they don't define who you are as a person.
When I finished my GCSEs, I spent lots of the summer afterwards sorting through my huge piles of revision notes and stressing about results day. The day I'd been worrying about for so long was getting closer and I was getting more nervous. I remember waking up early and walking into school. I remember standing in line to pick up that white envelope and then opening it. I remember my hands shaking as I started to read my results. I had done well and was happy with all of my grades! We drove home, went out for dinner, and then I went to bed. Suddenly the really important life-changing grades had become some numbers on a piece of paper lying on my floor.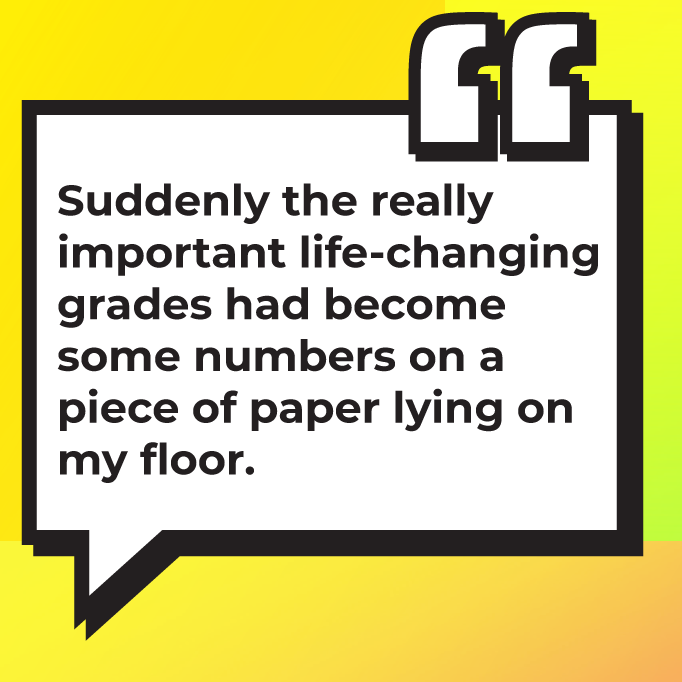 If I fail my GCSEs is my life over?
Looking back, my GCSE results were not as important as I thought. Although I needed them to get into sixth form, I didn't need them to show my worth. I felt like the last two years of hard work had not been wasted, because I'd done well, but what if I hadn't? Would the previous two years have been a waste of time? Obviously not. During my GCSE years, I grew in ways unrelated to academic performance, which I have only just realised the importance of. I developed friendships with inspiring and supportive people, learned a lot about what motivates me, spent time talking to people from many different backgrounds, and most importantly I learned that exam results of any kind do not define you.
Your grades can feel like the most important thing in your life, but that's only because they are what you have been spending your time on. As soon as you move onto the next stage of your life whether it is college, sixth form, an apprenticeship, or training, you'll realise that the grades were not as monumental as you first thought. This was definitely true for me, and although I know that now, it's so much better to realise it beforehand — because the time you spend stressing will be a lot shorter. 
What happens after your GCSEs?
If you choose to go the route of further education, GCSEs are the most important thing until you get to A levels, then A levels are the most important thing until you get a degree. Just because GCSEs are the first time you have formal assessments doesn't mean they are worthy of huge amounts of stress, especially after you've sat them, when overthinking and panic can't change anything. I wish I had known that when I was waiting for my results.
No matter your GCSE grade, you will have learned a lot. 
Before I had any GCSEs I applied for a job at my local sports centre. I had a job interview, then a trial shift, then I got the job. I still work there now after finishing Year 13 two years later, and I still love it. My colleagues consist mostly of adults with qualifications ranging from master's degrees to a few GCSEs and no further education. Speaking to my manager about this, they said that they look for candidates who are reliable, hardworking, and friendly. None of these qualities are dependent on grades or qualifications. Furthermore, I've learned more life skills from working in a gym cleaning the toilets and chatting with customers than a number from 1-9 can ever represent. 
That being said, I learnt a lot of skills from going through the process of GCSE exams, regardless of the grades at the end. They taught me focus and motivation skills, time management and planning skills, and how to deal with stressful situations. These skills have helped me in all parts of life, not just during exams. It's important to look at what you have learnt over the whole time you were at school. If you focus too much on just the grade at the end you often don't give yourself enough credit for the rest of the work. Waking up early, getting to school in the rain, doing homework in the evening — these are all things which aren't considered part of your grade but that doesn't mean they didn't teach you very important skills.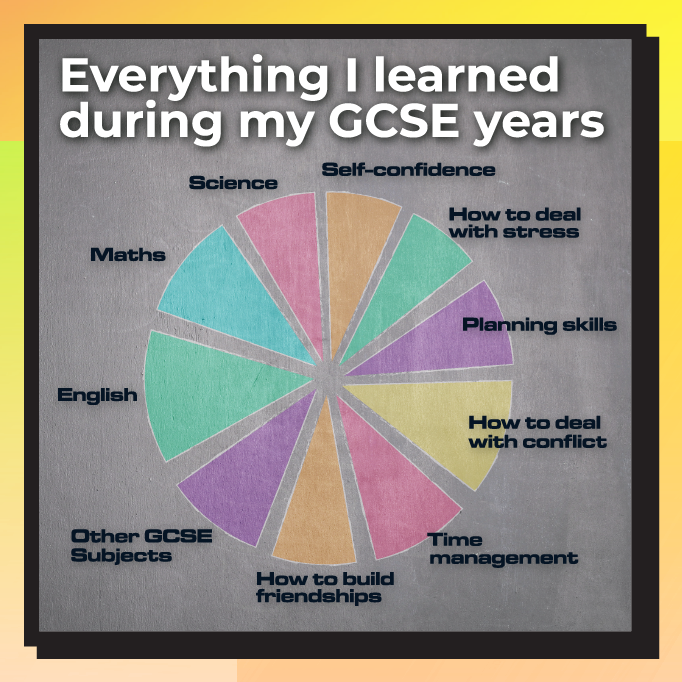 My GCSEs taught me that working hard is important, but stressing about results day when it is out of your control isn't. I'm currently waiting for my A level results and despite them arguably being more important, I am less stressed than when I was waiting for my GCSE grades. This is because I've learned that there are so many ways to measure what you have learnt throughout your time at school, and grades are just one way. How many friends have you made? What have you learnt about yourself? How have you changed? Ask yourself these questions the next time you find yourself stressing!