Recipes For Your Leftovers
By NCS
By Zoe (they/she) who always imagined that getting a dog would mean there's never any left-overs. Turns out there's a bunch of foods that you shouldn't feed to dogs — especially puppers with a sensitive stomach! Anyway, I'm rambling, so let's get into it… 
Food. We buy it. We cook it. And all too often, our eyes are bigger than our bellies, so we end up with far more than we need. The leftovers then probably get put in the fridge 'for later' but, if you're anything like me, it often lingers there until speckles of mould start to appear. Then it gets chucked into the food caddy, and put out onto the street to be picked up in the morning.
No big deal, right? Except that's not the end of the story. Because when food rots, it releases methane — a greenhouse gas which warms the planet 80 times faster than carbon dioxide. And in the UK, it's estimated that 4.5 million tonnes of food is wasted every year instead of being eaten. 
If we were just all a bit better at eating up our leftovers that'd be good for the planet. And it'd be good for our wallets too. So, just in time for Food Waste Action Week, I'm sharing some recipes to help you make something truly delicious out of your leftovers. 
Leftover porridge? Make pancakes
Recipe by Jack Monroe. For more of their recipes see: cookingonabootstrap.com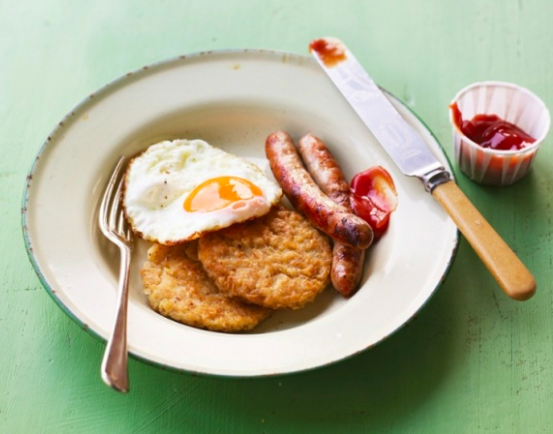 If you like porridge in the morning, but always end up making too much, then this porridge pancake recipe could be just what you've been missing in your life. 
INGREDIENTS
Leftover porridge 
A little flour for dusting
A little oil to cook them
Your favourite pancake topping, e.g. honey or berries and maple syrup.

METHOD
Step 1. Allow any leftover porridge to cool. Then pop it in a bowl, cover with cling film, and place in the fridge overnight. 
Step 2. The next morning, take it out of the fridge. It should now have quite a thick texture.  
Step 3. Sprinkle a little flour onto your worktop and your hands. Break a chunk off the porridge-lump, and flatten it down using your fingertips. You can use a cookie-cutter or a knife to divide it into small round pancake shapes. 
Step 4. Heat a little oil in a frying pan (you want to get it pretty hot!). Then dust a little flour onto each side of each pancake, and place them into the pan. Cook them for a few minutes on each side, turning the heat down to medium so they don't burn. Cook until golden and crispy around the edges, then serve.
Step 5. Add your favourite toppings, and enjoy! BTW, Jack recommends eating them with brown sauce and sausages with a fried egg on top. Yum.
Leftover stale bread? Hello garlic and herb croutons
This recipe is from Mark Breen, as part of the Taste Not Waste collection. To see the whole recipe collection, click here.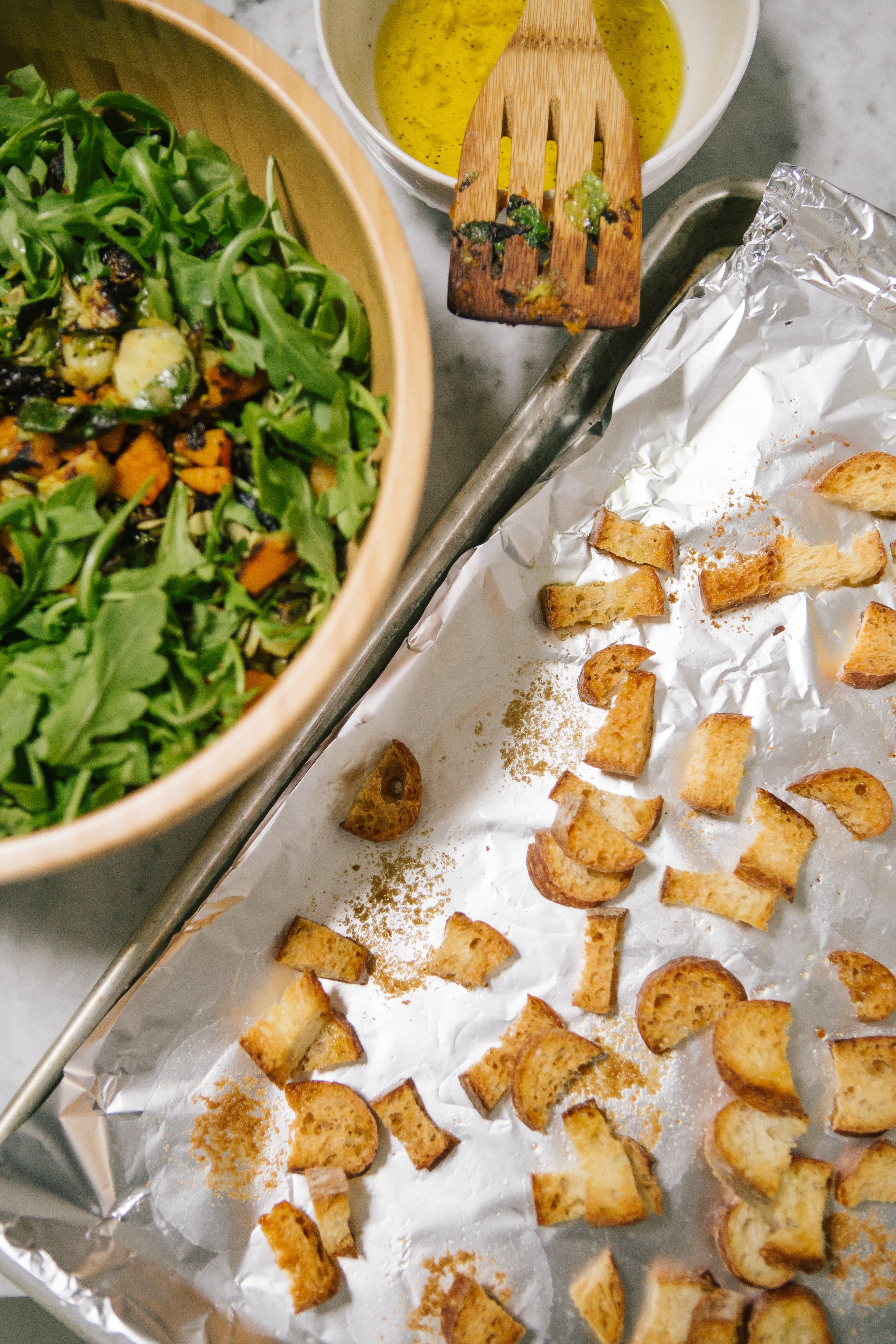 Before throwing out your stale bread, check to see if you've got a couple of cloves of garlic and a bit of parsley hanging around. 'Cos if you do, you're in for a real treat.
INGREDIENTS
Leftover stale bread
4 tablespoons of olive oil
2 medium garlic cloves, finely chopped
1 tablespoon fresh parsley, finely chopped. Or 1 tsp dried parsley
1/4 teaspoon salt
1/4 teaspoon ground black pepper
METHOD
Step 1. Preheat your oven to 180°C.
Step 2. Mix the olive oil, chopped garlic, chopped parsley, salt, and pepper together into a big bowl.
Step 3. Cut your bread into 2cm cubes. Keep the crusts on as they add a great crunch. 
Step 4. Put the cubed bread into the bowl with the oil, garlic and parsley mixture, and toss it all together until every cube of bread has an even coating.
Step 5. Spread the bread in a single layer on a baking sheet. Bake it in the oven for 20 minutes until they are golden brown and crunchy.
Step 6. Serve warm or cooled on salad, soup, rice dish, or anything you like.

Leftover potato peelings? Make delicious soup!
This recipe is by Hugh Fearnley Whittingstall. For more of his leftovers recipes, jump over here.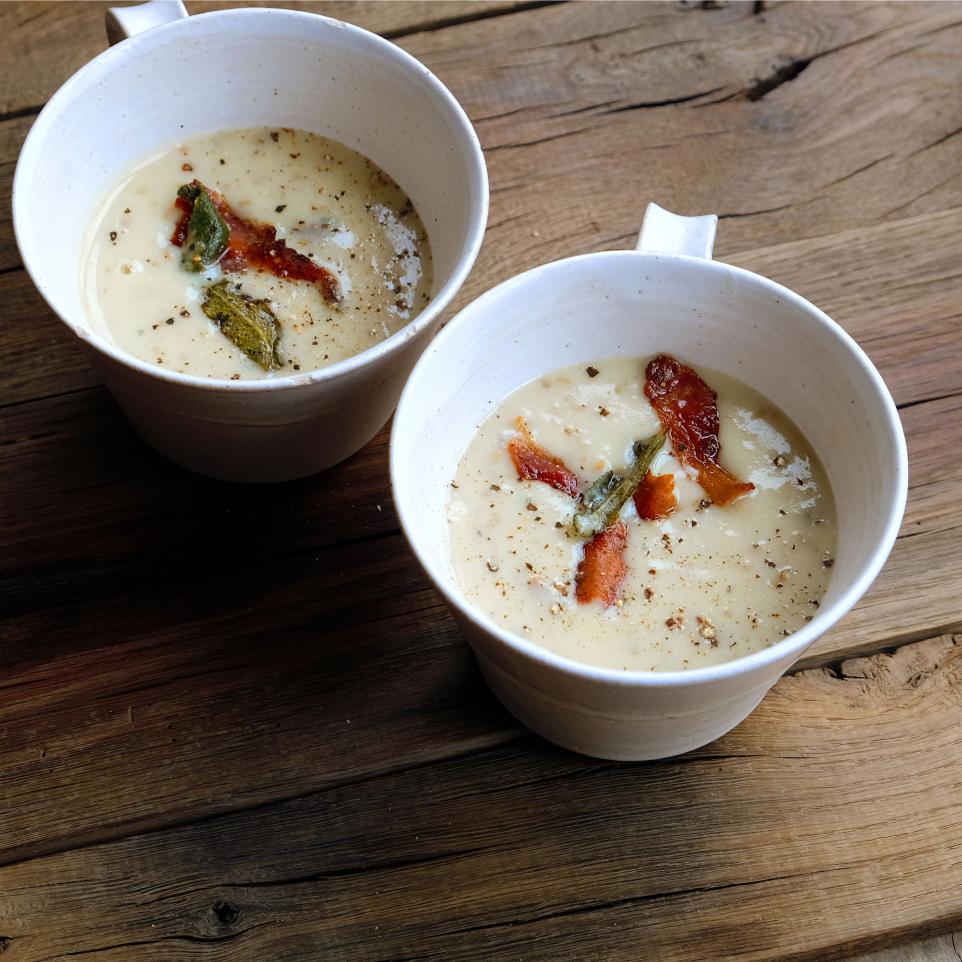 Making a tray of roast potatoes, or a load of nice warming of mash? Then don't throw the potato peels away! This soup might sound rather humble, but it's actually pretty miraculous in flavour so definitely worth trying out. Just make sure you scrub the potatoes before you peel them so that the peels are nice and clean. 
INGREDIENTS — THE SOUP
20g butter, or rapeseed or sunflower oil
1 large or 2 medium onions, diced
1 bay leaf
About 200g potato peelings. This is as much as you'd get from preparing a decent-sized tray of roast potatoes.
500ml whole milk
500ml chicken or vegetable stock
Salt and freshly ground black pepper
2 tbsp finely chopped parsley leaves (optional)

INGREDIENTS — THE GARNISH (OPTIONAL)
Fried sage leaves
Crispy bacon
METHOD
Step 1. Heat the butter or oil in a medium saucepan over a medium-low heat, and add the onions, bay leaf and a good pinch of salt. Sauté gently for about 10 minutes, until the onions are soft but haven't taken on much colour.
Step 2. Add the potato peels and give everything a very good stir for about a minute.
Step 3. Pour in the milk and stock. Season well with salt and pepper and bring it to the boil. 
Then, reduce the heat and simmer gently until the peels are very tender – another 10 minutes or so.
Step 4. Remove it from the heat and let it cool slightly. Then purée it in a blender until it's nice and smooth.
Step 5. Return the soup to the pan and reheat gently. Season well with salt and pepper and stir in the chopped parsley, if using.
Step 6. If you're going all out, top with fried sage leaves and/or shards of crispy bacon. The garlic and herb croutons from the recipe above would go great too! 
Old bananas? New banana bread (it's vegan too!)
This recipe is from BBC Good Food. They've got a load of other leftovers recipes here from french toast to hummus made from leftover sweet potato.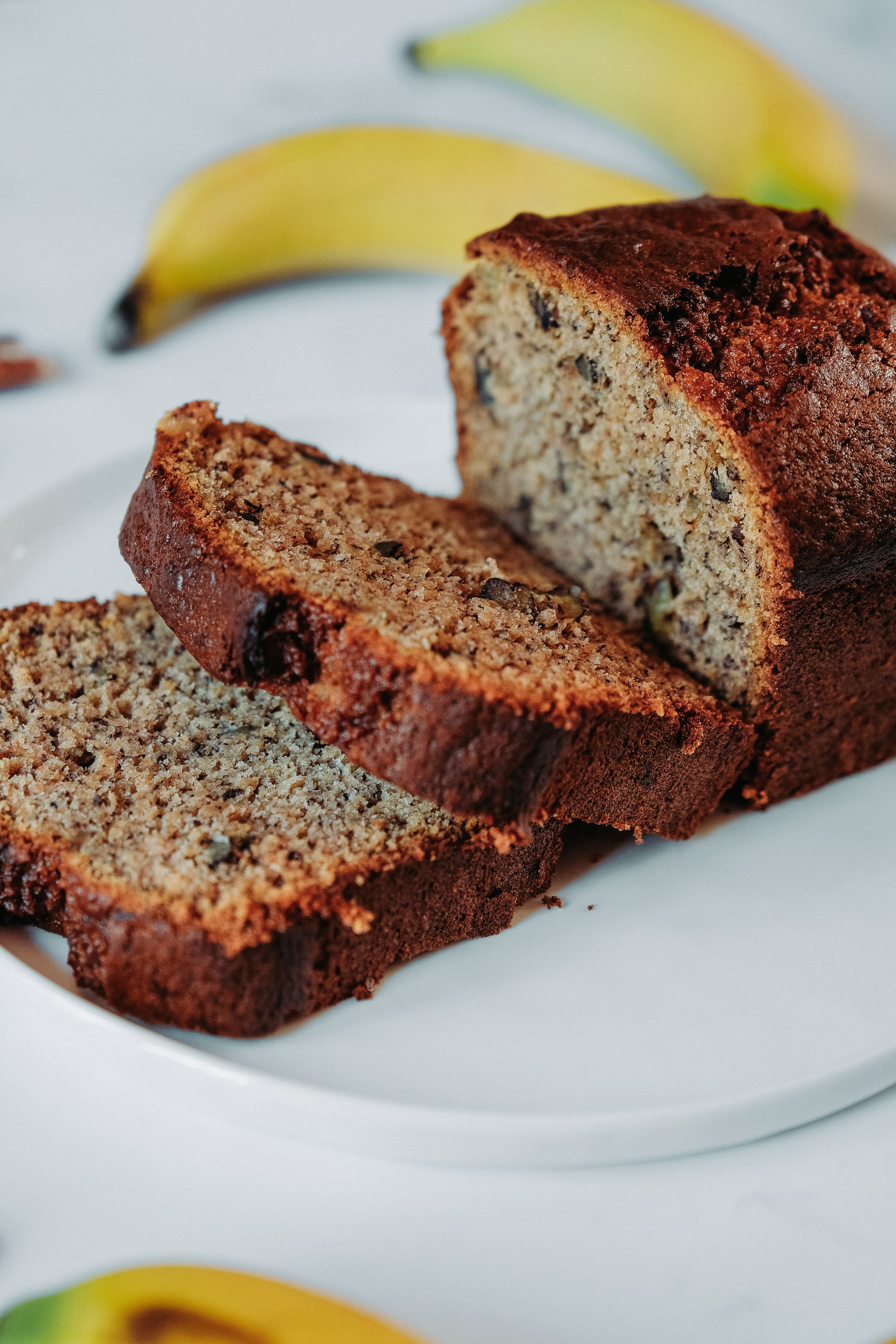 Sometimes, before we know it, the days have passed and the bananas have morphed from the yellow beauties we bought in the shop, into soft slushy black shapes sitting forlornly in the fruit bowl. Our instinct might be to let out a tired sigh and throw them out, but making them into vegan banana bread is a much more delicious move.
INGREDIENTS
3 large black bananas
75ml vegetable oil or sunflower oil, plus extra for the tin
100g brown sugar
225g plain flour
3 heaped tsp baking powder
3 tsp cinnamon
50g dried fruit or nuts (optional)
METHOD
Step 1. Preheat your oven to 190°C. 
Step 2. Using a fork, mash the peeled bananas in a bowl. Then add 75ml of oil and 100g of brown sugar, and give it all a stir.
Step 3. Add the flour, baking powder and cinnamon, and combine it all together. If you'd like to add dried fruit or nuts, add those in too.
Step 4. Line a small loaf tin with parchment paper. Spoon the mixture into the tin, place it in the oven, and bake for 20 minutes. 
Step 5. Check to see if the loaf is starting to brown. If it is, place some foil over the top. Then bake for another 20 minutes, or until a skewer comes out clean.
Step 6. Allow to cool a little before slicing. It's delicious freshly baked, but develops a lovely gooey quality the day after. You might want to pop a piece in the toaster, and then pile on the peanut butter for a tasty midday snack. 

Top Tip
If you want to become better at using up your leftovers, it's worth getting a couple of food-safe containers. Empty ice cream tubs are a good shout, but glass or stainless steel containers are great as they're easy to clean and non-toxic.