Offline Mode: Plan A Pamper Sesh For Your Pals
By NCS
Include this article in your Skills Builder Journal. It could help you develop... 

There's nothing quite like a good pamper sesh to make yourself feel good and glow from the inside out. So, grab some pals and take a look at our top tips to getting pampered…
Set the mood…
A great pamper sesh starts with a great playlist. You've got to have music to match the mood! So why not set up a collaborative playlist together, where you each add your own songs to. Find chilled beats for while you're relaxing, and then whack on some of your fave sing-your-heart-out-into-your-hairbrush tunes to dance around your room to! And do the same with your favourite movies and TV shows. Line up some feel good films, or bingeable series to either stick on in the background, or rewatch for the hundredth time.
Need some help with a playlist? Why not take a look at this Pamper Night selection, or go for some Powerful Women, have a Girl's Night In, or a Boy's Night In!
Bring the food…
It's important to stay hydrated and have a good selection of snacks to go along with your pampering. Why not do something creative and ask everyone to bring what they'd need to make a themed mocktail based on your favourite TV show? 
How about a Bridgerton inspired mocktail, the Whet Your Whistledown…
What you'll need:
100ml ginger beer
25ml elderflower cordial
25ml fresh squeezed lemon juice
25ml honey syrup (squeeze some honey into some hot water until the honey is dissolved and the mixture becomes syrupy!)
Pour everything into a glass full of ice, stir and enjoy!
Or an inspired (Non) Aperol Spritz…
What you'll need:
125ml orange juice
75ml grapefruit juice
100ml tonic or soda water
Orange slices
Mix everything together in a glass full of ice, stir, and garnish with a couple of orange slices!
And then of course, load up on your favourite snacks. You could even do a Snack Secret Santa game, where each of you has to pick a snack for someone else. Or, throw everything together in one giant bowl and have a lucky snack dip! And if that's not enough, you can't go wrong with pizza. Why not make your own, or all pitch in to buy some.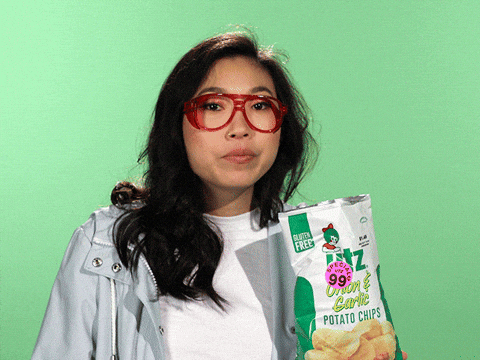 Feeling good…
Now the mood and the food are set, it's time to feel good! So sit back, relax, and look after yourself. We've got ideas for hair, skin and nails…
Heatless curls are all over TikTok at the moment, with loads of different ways to achieve them, from using dressing gown ties to socks! Have you tried them?
No pamper sesh is complete without a face mask or two. You can of course find loads of different kinds in the shops, from sheet masks to peels offs to charcoal to foam. But did you know you can also make your own facemasks from stuff in your fridge? Just remember to always do a patch test first to make sure that your skin doesn't react to the ingredients, and always check use by dates too - no one wants slightly gone off yoghurt sitting on their skin!
To sooth your skin:
1 teaspoon honey
1 teaspoon coconut oil
¼ ripe avocado
2 drop lavender oil
This mask is perfect for helping soothe your skin. The coconut oil means deep hydration, the honey gives your skin antioxidants and the lavender helps reduce any redness. Put everything in a big bowl and mix it up until it's smooth. Then, paint over your face with a brush or your fingers and leave it for about ten mins before washing off gently. 
To moisturise your skin:
1 tablespoon natural yoghurt
1 tablespoon honey
1 tablespoon turmeric powder
This mask is great for making your skin feel brand new. Yoghurt contains lactic acid, which helps to lift away rough skin cells, uncovering brand new shiny ones! The honey will make your skin feel supple, and the turmeric is useful for combating any discolouration. Mix it all together, slather it on and leave for about 15 mins before washing off gently. If you're feeling really creative you could add in a small handful of oats too - they're great for nourishing the skin and adding back moisture. 
If you're lucky enough to have a pal who's training to be a nail tech, why not give them a chance to shine and let them practice on you! Scroll through Pinterest for inspiration - or even set up a Pinterest board as a group to get loads of ideas - and get to work. Even if you don't have a nail tech pal, why not just try to be creative together and practice some fun nail designs! Alternatively, you can pick up some affordable press on nails from places like Superdrug, Boots or Primark. 
Why not try some shimmery french tips:
Or some simple stripes:
Try your hand at some faces:
Or go all out with colour!

Most importantly, have fun! Let us know your favourite pamper routines over on our Insta @NCS!