Let's Get Quizzical: Shakespeare
By NCS
Include this article in your Skills Builder Journal. It could help you develop...

Looking for something to do this weekend? Don't worry, we've got you sorted. Put your best Quizmaster hat on, set up a Zoom a FaceTime with your mates, and get quizzing! Add this round to a longer quiz, or just keep it short and sweet. This one's all about Shakespeare...answers at the bottom.
QUESTIONS
1. What Shakespeare play does "Is this a dagger which I see before me, the handle toward my hand?" come from?
a) Two Gentlemen of Verona
b) Julius Caesar
c) Macbeth
d) Romeo and Juliet
2. How many plays did Shakespeare write?
a) 37
b) 59
c) 102
d) 41
3. Shakespeare and Henry VIII both married someone with the same name. What is her name?
a) Anne
b) Mary
c) Jane
d) Catherine
4. Who said "Love looks not with the eyes, but with the mind, and therefore is wing'd Cupid painted blind"?
a) Lady Macbeth
b) Juliet
c) Helena
d) The Countess
5. In Act 2, Scene 2 of Romeo and Juliet, Juliet says "What's in a ______"?
a) Word
b) Heart
c) Voice
d) Name
6. What year was Shakespeare born?
a) 1564
b) 1565
c) 1568
d) 1563
7. "To be or not to be" is from which play?
a) King Lear
b) Richard III
c) Hamlet
d) Julius Caesar
8. What is the name of the London theatre that Shakespeare is commonly associated with?
a) The Hamlet
b) The Globe
c) The William S.
d) The Stratford
9. In which play would you find the character Touchstone?
a) The Comedy of Errors
b) Twelfth Night
c) A Midsummer Night's Dream
d) As You Like It
10. True or false: Shakespeare has won an Academy Award.
a) True
b) False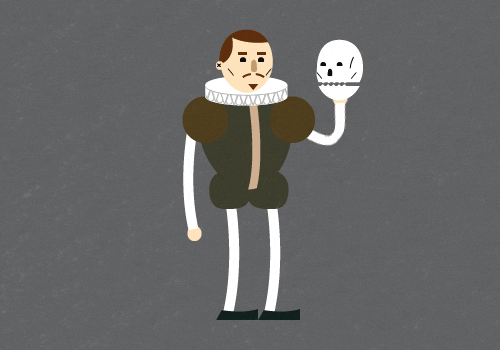 ANSWERS
1. The answer is c) Macbeth!
In Act II, Scene I of Macbeth, Macbeth is convinced to commit the crime of murdering the King, under the influence of the witches and Lady Macbeth. He hallucinates a blood-soaked dagger, signifying his inner turmoil.
2. The answer is a) 37!
During his lifetime, Shakespeare wrote 37 plays and over 150 poems. His plays are divided into four different categories: The Comedies (Much Ado About Nothing), The Tragedies (Romeo and Juliet), The Histories (Henry VI) and The Romances (The Winter's Tale).
3. The answer is b) Anne!
William Shakespear was born in 1564, a whopping 13 years after King Henry VIII died, however, they still ended up marrying someone with the same name. William married Anne Hathaway, and Henry actually had two wives by the name of Anne - Anne Bolyen and Anne of Cleves. Fun fact: movie star Anne Hathaway was named after Shakespeare's wife!
4. The answer is c) Helena!
In Act I, Scene I of A Midsummer Night's Dream, Hermia tells Helena her plans to run away with Lysander, who she is in love with, instead of marrying Demetrius. Helena, upset, ponders how Cupid must be blind as so called love alters our judgement.
5. The answer is d) Name!
"What's in a name? That which we call a rose by any other name would smell as sweet" Juliet ponders. She knows she's not allowed to associate with Romeo because he's a Montague...but if he had any other name it would be fine. He'd still be the same person, but also, wouldn't be. Ugh, it's all so unfair!
6. The answer is a) 1564!
Shakespeare was born in Stratford-upon-Avon, in april 1564. Although the exact date of his birth isn't recorded, most people celebrate it on April 23. Strangely enough, he also died on April 23 in 1616, at 52 years old.
7. The answer is c) Hamlet!
That is the question! Here, Hamlet is thinking about life and death, a state or being versus a state of not being. He thinks life is a lack of power, at the mercy of fortune. But life after death is an unknown - possibly worse than life itself. The greatest existential crisis of all time??
8. The answer is b) The Globe!
The original Globe theatre was built in 1599, destroyed by fire in 1613, rebuilt a year later and then demolished in 1644. The modern Globe Theatre is based on images and evidence of the original. It is circular, holds 1400 people and puts on plays on a daily basis!
9. The answer is d) As You Like It!
In As You Like It, Touchstone is the court jester of Duke Frederick. He's a fool, and continually comments on the other characters - giving those in the audience a better understanding of what's going on!
10. The answer is True!
Okay, so technically speaking, Shakespeare himself has not won an award...but the 1998 movie Shakespeare in Love, did. Seven awards in fact! Although very much a fictitious look at the Bard's life, many Shakespearean scholars have enjoyed the movie. So what are you waiting for? Go put it on!