Learning To Love Yourself With Positive(Ish) Podcast
By NCS
Include this article in your Skills Builder Journal. It could help you develop... 


Loving yourself fully is something a lot of people struggle with. That's why Sam and Vicki started a podcast - to reach as many people as they could and have some honest chats about whatever life throws their way. From body image to mental health, PMS to pizza, all while trying to stay positive...ish. They're here with some life-affirming advice on how to learn to love yourself in a positive way...
"Just love yourself!" Sounds simple, right? Well, despite self-love being a popular social media buzzword, learning to love yourself is actually much trickier than the internet would have you believe. While it's all well and good showing yourself some love with a bubble bath and a bunch of flowers, when it comes to truly loving yourself inside and out, there's much more to it.
Learning to love yourself is - brace yourself - a journey. That might sound embarrassingly clichéd, but behind all those pastel Instagram quotes and bodacious bikini photos (which we love, by the way) is years of hard work. Building yourself up takes daily practise of unlearning bad habits and combating negative thoughts, with plenty of slip-ups along the way, and here's the real kicker - you might not even get there! Reaching the dizzy heights of loving yourself isn't necessarily the endgame, especially if you're starting from square one; loving yourself might feel completely unrealistic right now, but if you can at least accept yourself then you're on the right track.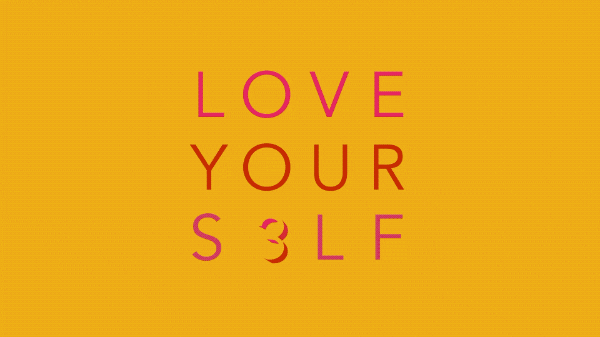 While recording our podcast, Positive(ish), we've discussed all sorts of things that have held us back from loving and accepting ourselves, from diet culture wreaking havoc with our body image to the pitfalls of comparison and jealousy. The truth is, everyone has their own pesky demons (or shame gremlins, as our heroine Brené Brown would say) and they almost always have one thing in common: they're all in our heads. Right now, in this moment, you are the only person standing in the way of loving and accepting yourself - no-one else can do it for you! Luckily, through honest conversations with each other and our fascinating guests, we've gathered a few useful tips and tricks that we hope can help you on your self-love and self-acceptance journeys.
Would you say that to your best friend?
We're mean to ourselves. Like, really mean. You'd probably never dream of telling someone else their eyes are too close together to pull off winged eyeliner or they have too many stretch marks to wear a crop top - so why say it to ourselves? We might not love ourselves just yet, but the least we can do is be kind to ourselves! The next time you think you're not good enough, imagine what you'd say if your best friend came to you with the same problem. You'd probably be sweet, supportive and compassionate, so why not treat yourself the same way? Check out more about treating yourself kindly on this episode.
Cut your own path
When we speak to guests on our podcast about how they got to where they are, the same advice always crops up: just do your own thing! It's so easy to get wrapped up in other people's achievements and celebrations, usually resulting in a wobble in confidence if you're not in the same place as those around you. But trust us, the most successful, interesting, fulfilled guests we've spoken to all followed their own unique paths, full of ups and downs, and wouldn't have it any other way. So just focus on you and don't let other people's paths distract you from your own awesome journey. You can listen to more about finding your own way on this episode.
There's no such thing as perfect
We're sorry to be the bearers of bad news, but "perfect" doesn't exist. It just doesn't. Even things we might perceive as perfect (hello, have you seen Kim Kardashian's Instagram?!) are usually filtered to the gods and edited within an inch of their life. This perceived perfection might leave us mere mortals feeling "less than", but it's important to remember that it's not real life and even those "perfect" people still probably find things about themselves that they don't like. Chasing perfection is a waste of time; loving and appreciating what you have, on the other hand, is time well spent! We go into more detail on this episode.
Say thank you
Have you ever tried saying thank you to, well, you?! We're gluttons for punishment, zooming in on the parts of ourselves we don't like, but we always forget to appreciate everything our bodies actually do for us. If you're hating on how you look, have a good think about how amazing your body is and how grateful you are for every inch. Maybe your arms let you hug those you love, your nose breathes in the smell of freshly cut grass, your legs carry you from place to place, your sense of humour gets everyone laughing all the time…the list is endless! We promise, when you're done you'll be so busy appreciating all the wonderful things your body can do, you won't even think about how it looks! Find out more about how you can thank yourself in this episode.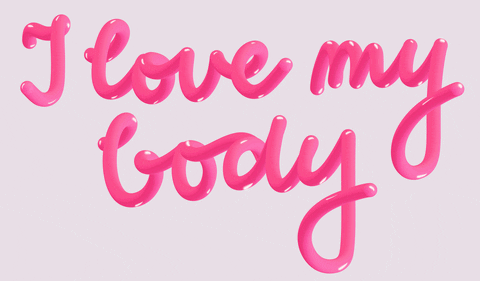 No competition, not even with myself
Forget being our own worst enemy; it's time we became our own best friend! We're forever competing with others (which is exhausting!), but have you ever noticed how often you're in competition with yourself? Perhaps you long for your pre-lockdown body, or miss the person in old photos, or set yourself up for failure with unrealistic targets - whatever your poison, it's always going to be an uphill battle learning to love someone that you're constantly competing against. You don't need to fight with yourself all the time; try being your own best friend first! Want to be your own BFF? Take a listen to this episode.
Face your fears!
Sometimes dimming the lights, covering up the mirror and switching off the Zoom camera is a huge relief! However, learning how to face yourself and stand up to those negative thoughts is a real leap in the right direction when it comes to accepting and loving yourself. Whether it's starting a vlog, snapping full-length selfies, or even just taking a few minutes to stand in front of the mirror each morning and recite positive affirmations, you'll be amazed at how quickly you become used to yourself. With a little work, your inner-critic will get quieter and quieter until, eventually, you'll be able to catch your reflection and simply accept what you see.
Loving yourself isn't an overnight phenomenon, but we hope you see that there are some steps you can take to be more supportive, nurturing and accepting of who you are - because you bloomin' well deserve it!