How To Protect Our Oceans
By NCS
 Include this article in your Skills Builder Journal. It could help you develop... 


It's World Ocean Day, and who better to give advice on how we can look after our blue planet than the Marine Conservation Society - a UK charity fighting for a cleaner, better-protected, healthier ocean; one we can all enjoy. Here's what they have to say…
You've more than likely heard of both climate change and plastic pollution. But how are these two seemingly unrelated issues impacting our ocean, and what can we do to turn the tide and help it recover? 
One planet, one ocean 
The ocean plays a vital role in regulating our climate and water cycle. It also provides a source of food, income and wellbeing to millions of people around the world. 
Over 70% of our 'blue planet' is covered by ocean – but it's under threat.
A changing climate 
Rising global temperatures cause ice in polar regions to melt, which in turn causes sea levels to rise. It's estimated that by 2050, sea levels will have risen globally by one metre. That doesn't sound like that much, right? The reality is that this rise can be the catalyst for devastating flooding and coastal erosion, impacting UK towns like Happisburgh which is losing two metres of land per year. 
The frequency and magnitude of extreme weather events also increase with a changing climate, and can have a catastrophic impact on fragile marine environments like coral reefs. 
However, habitats such as saltmarshes, seagrass beds and mangrove forests can help us in the fight to reduce climate change. These incredible underwater habitats draw down and store between them 235-450 million tonnes of carbon per year – almost half the emissions from the entire global transport sector. 
Blue carbon is the term for carbon absorbed from the water and atmosphere and stored in our seas and coasts. Read our blue carbon report published in partnership with Rewilding Britain to learn more about the topic, and get involved in our new campaign calling on the development of a comprehensive Blue Carbon Strategy by UK governments.
The plastic plague 
It's estimated that 11 million tonnes of plastic ends up in the ocean worldwide each year, and that 80% of litter found in the sea has come from inland sources. 
Litter items can cause harm to all sorts of marine life, through entanglement, ingestion and injury. Microplastics (plastics that have broken up into pieces smaller than 5mm, or pieces that enter the environment this size like microfibres or plastic nurdles) pose a particular problem for marine wildlife, as well as humans. Worryingly, fish eat these microplastics, which means they're heading for our plate. 
Did you know that washing synthetic clothes accounts for 35% of primary microplastics in the environment? An estimated 9.4 trillion fibres are released from washes every week in the UK, so it's not surprising that billions of them end up in the ocean.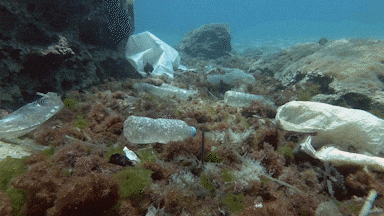 The best way to stop the flow of microfibres to our ocean is to fit filters in washing machines. The filters would capture microfibres in the same way lint is caught in tumble driers, catching them before they reach our seas. We're asking UK governments to bring in legislation that requires washing machine manufacturers to fit microfibre filters in all new domestic and commercial machines, by law, by 2023 and that all commercial machines are retrofitted with these filters by 2024. Check out our campaign to Stop Ocean Threads and add your voice to our petition. 
How can we help protect the ocean? 
Our ocean is an incredible ecosystem, but it needs our help and protection for nature to thrive. Making simple, mindful and manageable lifestyle changes can all help make a difference to our seas. 
Make more sustainable seafood choices with the Good Fish Guide 
For most people, the majority of the protein in our diet comes from meat farmed on land, which produces huge amounts of carbon emissions. Sustainable fishing practices produce much less carbon, and a shift towards a sustainable fish diet could offer the balance of a protein-rich diet and a smaller environmental impact. Protein doesn't just come from fish, but other seafood species like mussels, crabs and even seaweed, which have especially low carbon emissions. 
Find updated and easy-to-read sustainability ratings for species like cod, tuna, mussels and crab in our Good Fish Guide. 
Ditch fast fashion 
Get sustainability savvy and buy second-hand or give a new lease of life to the clothes you already own. Check out your local charity shops or online retailers like Depop to make the most of pre-loved clothing. The worst microplastic shedding culprit is polyester fleece, but nylon and polyester fabric are also high shedders, so look for clothing made from as near to 100% natural items as possible. 
Why not organise a clothes swap at your school, university or amongst your friends? Vintage gems can last a lifetime, and you'll feel even better for having reduced your fashion footprint. 
Join us at a beach or street clean 
Help stem the tide of ocean plastics wherever you are by taking part in a beach clean or Source to Sea Litter Quest. Our cleans involve recording the litter we collect, and this litter data helps inform our campaigns and lobby government and other stakeholders. Head to our website to find an event near you, or sign up as an organiser to start running your own cleans.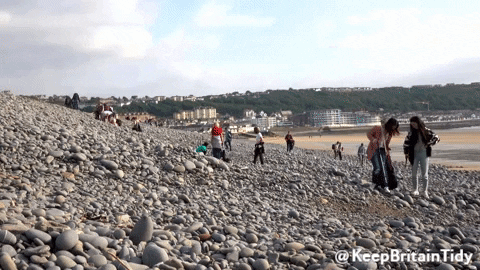 Use your platform to share stories of ocean-positive action 
It's simple – shout about our incredible ocean and you'll inspire love for it. People are more likely to want to protect what they care about, so start spreading the word! 
Sign and share petitions asking governments to designate new Marine Protected Areas, or to bring in legislation helping reduce microfibre pollution. Add your voice to calls to increase the plastic bag charge, or to speed up the introduction of nationwide Deposit Return Schemes. Nominate someone for our Young Ocean Optimist of the Year Award, tweet about seagrass or just share a video of a baby cuttlefish (yes, they're as cute as they sound!). 
We fight for our ocean through people-powered action, with science on our side. Join us and become a member, or sign up to our monthly digest to keep up-to-date with our work and ways to get involved. We hope to see you at a beach clean soon!