How To Help Out Food Banks Right Now
By NCS
Include this article in your Skills Builder Journal. It could help you develop... 



We've seen a lot of great social action projects from you on programme that support your local food banks or start food donation drives. But what happens to food banks during a global pandemic? We spoke to Carole at the Newcastle West End Foodbank to see how they've been managing….
Hi Carole, tell us a little bit more about what you do and how you've been managing during the coronavirus pandemic...
I look after both the welfare of volunteers and clients and lead the Pathways Out of Hunger team for Newcastle West End Foodbank. I also look after PR and social media.
Because of self isolation and shielding needs during coronavirus, our volunteers reduced from a total of 109 to 27. We knew straight away that our service would be stretched at all three foodbanks, plus our warehouse, and it was and still is. Our private donations dropped as well as collections pre-match at NUFC home games. 
Our major concern was with our clients, who were already food poor and anxious. We knew that having to stay at home would worsen their already fragile states of mental and physical health.
How did you combat this concern?
The first thing we did was to make our food banks as safe as possible. We had already started to source PPE, and our friends at NUFC Fans food bank gave us some help too. 
From the very beginning we ensured that our volunteers were safeguarded and instructed in safety precautions. They wore masks and gloves and were offered face shields, and all of our food banks were marked out with chevron tape to conform to social distancing. We painted two metre lines around our food banks and were given permission from the council to paint lines on public paths.
We were ready!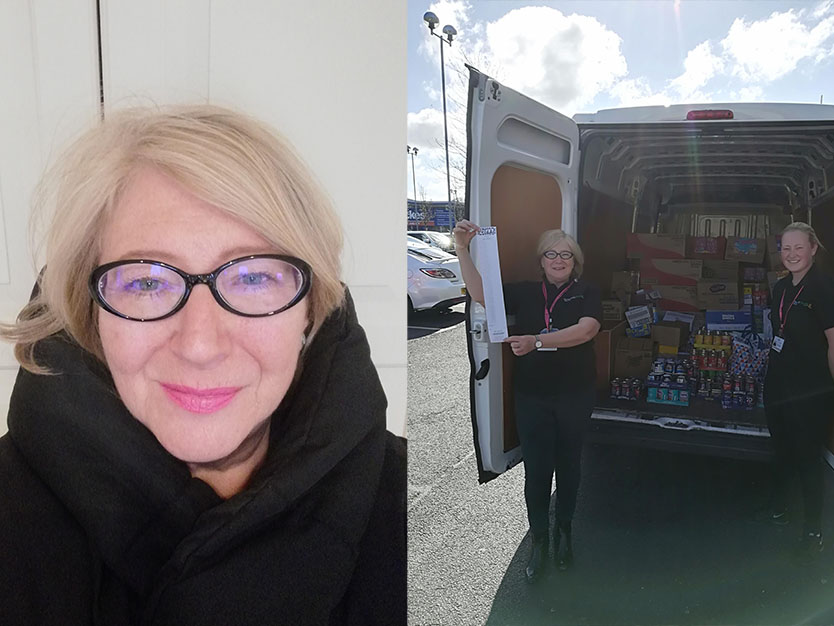 Did your day to day work change?
Lots of clients still came to us for their much needed parcel. They were very afraid and many of them didn't really understand what was happening. It soon became obvious though that they still wanted to come and see us by using their allotted daily exercise. Masks meant our smiles were unseen so we had to make sure we smiled with our eyes and hand gestures. Using our own type of sign language became very important. Talking to our clients is a crucial part of what we do and this has been very difficult. Talking to clients and still trying to help them whilst wearing masks and only having a few moments every week has been very challenging.
For those clients who were isolating, our warehouse became the base of a magnificent operation. In conjunction with Newcastle City Council and the Life Vineyard Church we started our home delivery service. This was indeed a lifeline for many stranded at home. The vulnerable, elderly, sick, and housebound were and still are having their parcels home delivered.
The interactions we have with our clients has always been very special and needed. Before coronavirus,  our pathways service helped hundreds of people to improve their lives. With the majority of agencies working from home now,  it's made it all the more difficult to maintain contact. However we persevere and do all that we can.
We know that our PPE and social distancing measures are here until at least the end of the year. Our major concern is the mental well-being of our clients, many of whom still won't go out or i feel they will be housebound permanently. Isolation and loneliness are now the key watch words and we must all do everything in our power to help the vulnerable through this.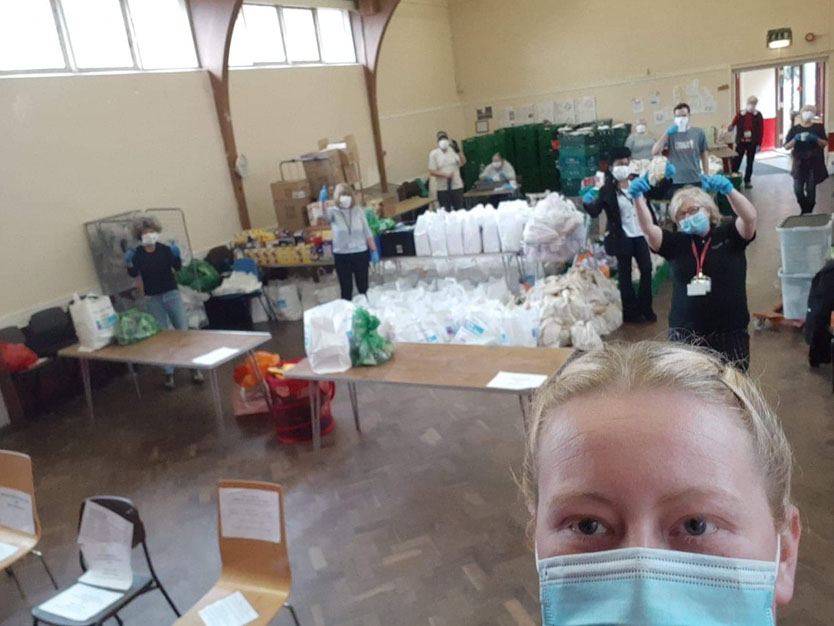 What can young people do to help out their local food banks?
Normally at this time of the year I'd be talking with NCS, Newcastle United Foundation and a few local schools to talk about how young people could be helping throughout the summer months. 
We are still in need of food and monetary donations and would encourage young people to do what they can in a safe and caring manner. One of our greatest concerns during this pandemic is isolation and loneliness. Young people should be on the lookout in their neighbourhoods for elderly, infirm and vulnerable people and if possible offer help and shop for people or chat to them from the safety of a garden wall. Personal safeguarding of course is first and foremost at all times.
Our food lists are still as they were and everything on there is always welcome, however we are particularly short of uht whole and semi-skimmed milk, biscuits, tinned tuna, shampoo, shower gel and soap.
To all of our friends at NCS and the young people who were ready to help us, social conscience is not just about a few weeks every year. Many people in your community need help all year round. Look to volunteer at a local charity if you can, it will be extremely rewarding. From Newcastle West End Foodbank we wish you well and good luck!
Find out more about volunteering opportunities with us through our Keep Doing Good page.