Five Times Queen Elizabeth Showed Us She's A Boss
By NCS
June 12 is good ol' Lizzie's official royal birthday, and in celebration of the reigning monarch, we're taking a look at five times she's shown us what being a boss looks like…
1947: Gettin' hitched
When she was 21 years old, Elizabeth married the late Phillip Mountbatten, the man she loved, even though her family didn't really approve. They wanted her to marry an English Duke, but Phillip was a Prince of Greece and Denmark, and had very little money. But love triumphed and the two were married! And on top of this, she insisted on keeping her own last name - Windsor - rather than taking on Phillip's. You go, queen!
1953: Taking on the kingdom
Just six years after getting married, Elizabeth's father, King George VI, died. Elizabeth was next in line to succeed him and was crowned Queen Elizabeth II on June 2 1953. Her coronation was the first ever to be televised, and had 27 million people around the world enraptured by her for three hours of royal viewing!
1982: A bedroom break in
Buckingham Palace is a huge tourist spot in London, and offers guided tours. But most rooms are off limits to the general public. So, in 1982 when Michael Fagan broke into the palace - and more specifically, Queen Elizabeth's bedroom - it was quite the news story. Just after 7am on July 9, Michael managed to scale the palace walls via a drainpipe and climb in through an open window. Not much is known about the specifics, but apparently Queen Elizabeth - although frightened (and quite rightly so!) - got help from the palace guards and even helped Michael calm down as he waited for the police.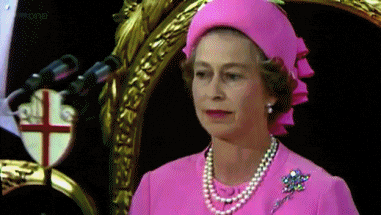 2012: The name's Windsor, Queen Elizabeth Windsor…
As part of the 2012 London Olympics Opening Ceremony, the Queen joined forces with Daniel Craig and filmed a short sketch in which he played James Bond and she played, well, herself. The sketch was received with much hilarity, especially as the Queen usually comes across as a very serious person. People loved that she showed a sense of humour and some pretty good acting skills! She even jumped out of a helicopter!*
*okay, so it's not actually the Queen but shhhh….
2015: World record reign
On September 9 2015, the Queen became the longest-reigning British monarch of all time, having surpassed her great-great-grandmother Queen Victoria, who reigned for 63 years and 7 months. She's also the world's oldest reigning monarch and the longest-reigning queen regnant in history. Oh, and she's the most traveled head of state too, with 261 overseas visits and 96 state visits to 116 counties...phew!
And that time she roasted the Obamas:
Happy birthday Queen Elizabeth!